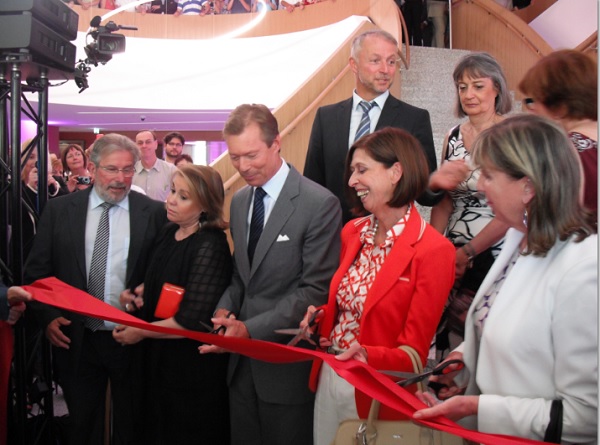 On Tuesday, HRH the Grand Duke and HRH Grand Duchess attended the inauguration of the new Grand Duchess Charlotte maternity centre at the Centre Hospitalier de Luxembourg (CHL) in Strassen, together with Mars di Bartholomeo, Speaker at the Chambre des Deputés, Lydia Mutsch, Luxembourg's Minister of Health, and Lydie Polfer, Luxembourg city mayor, amongst other invited guests, including CHL Director General, Dr Romain Nati.
Following three years of construction within the existing grounds of the hospital, the €54.5 million maternity centre, designed by Hermann & Valentiny and Partners architects, comprises 44 rooms (36 one-bed and 8 two-bed rooms), 6 delivery rooms as well as a Mother-Child centre; it can be accessed directly from the KannerKlinik (children's clinic). It also has its own 77-space car-park.
Following official speeches, the formal ribbon-cutting ceremony took place prior to the signing of the "Golden Book" and the tour of the new premises for the Grand Ducal party.
On Sunday 5 July, the public will get a chance to see the new maternity centre as it will host an Open Day from 10:00 - 17:30. the event will include guided tours (from 16:15) and various thematic workshops and other events. Doctors, nurses and other health professionals will be on hand to answer questions.
It is scheduled to open its doors for business in August 2015.
Photos by Philip Munn