About Luxembourg
About Luxembourg
THE GRAND DUCHY OF LUXEMBOURG ON ONE PAGE!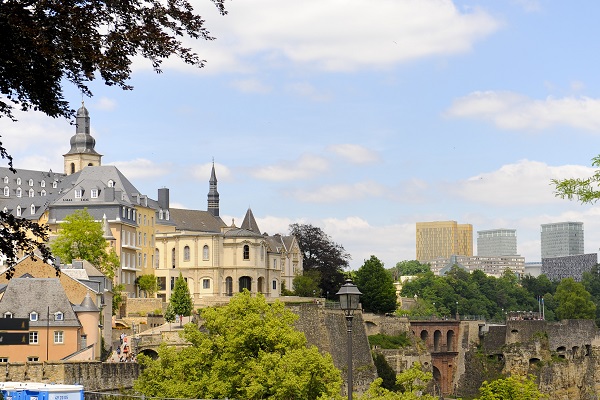 One of the world's best kept secrets (like the local Diekirch and Bofferding beers)!
Statistics:
Population: 645,397 as of 1 January 2022, up from 634,730 as of 1 January 2021. Average age: 40.4 for women, 39.0 for men
Foreigners: 47.1% of population, of whom most are Portugues, followed by French and Italian nationals
Surface area: 2,586 km2 (approximate size of Derbyshire, UK or Rhode Island, USA)
Capital city: Luxembourg (Population as of 31 December 2020: 124,528)
Minimum gross monthly salary (40 hours / week): €2,313.38 per month for unskilled adult workers; €2,776.05 per month for skilled adult workers (as of 1 April 2022)
Unemployment rate: 4.9% (as of 28 February 2022)
Government:
Constitutional monarchy since 1815
Current monarchs: Grand Duke Henri and Grand Duchess Marie Thèrese (since 2000)
Prime Minister: Xavier Bettel (DP) since December 2013
Coalition government of Liberal (DP), Socialist (LSAP) and Green (déi Gréng) parties. Next national elections: October 2023.
Single chamber parliament elected for 5 years in 2018; 60 MPs
Founding member of EU, 1957
Economy and Taxes:
Luxembourg is a hub within the Greater Region, with a population of 11.6 million people (2020 estimate), spread over an area of 65,401 km2 (Saarland and Rhineland-Palatinate in Germany, Lorraine in France, Wallonia and the German-speaking Community in Belgium, the Grand Duchy of Luxembourg). Multimodal logistics freight hub for air, rail, fluvial, lorries
25% of GNI is financial services – banking, fund management, insurance, etc.
Banking secrecy: for residents only. Automatic information exchange within EU for non-residents' bank data. Home to 147 banks
EU is largest employer after the State – circa 15,000, provides solid economic base. The Luxembourg State is the largest employer with over 31,000 staff on its books (2020 figures)
Largest private sector & semi-state employers as of 1 January 2021: 1. Groupe POST Luxembourg (4,620) - telecommunications; 2. Groupe CFL (4,580) - rail transport; 3. Groupe Cactus (4,460) - retail; 4. Groupe Dussmann Luxembourg (4,390) - cleaning services; 5. BGL BNP Paribas (4,050) - finance; 6. Groupe ArcelorMittal (3,660) - steel industry; 7. Goodyear Dunlop Tires Operations SA (3,570) - manufacturing; 8. Amazon.com (3,280) - head office activities; 9. Groupe PricewaterhouseCoopers (2,980) - tax, audit, consulting; 10. Luxair SA (2,840) - air passenger transport
Economic sectors: media, steel, tyres, consulting
Standard VAT rate: 17% (below OECD average), cheaper fuel, alcohol, cigarettes, no TV licence, no wealth tax, no inheritance tax (direct heirs), average income, corporation taxes.
Lifestyle:
Official languages: Luxembourgish, French and German
Schools: EU (European Baccalaureate), British (St George's - offers GCSE / A-levels), International (ISL - International Baccalaureate), French, in addition to good national schools, some of which also offer GCSE / A-level curriculum (Lycée Lucius) and the International Baccalaureate (Athenée)
Multinational and easy lifestyle of high standard for majority; low crime rate
Excellent but expensive housing, restaurants, wines, vibrant nightlife, walking, cycling
Transportation: free public transport within Luxembourg; two hours from Paris (TGV), Brussels, Strasbourg, Cologne. Important Ryanair hubs at Frankfurt Hahn (Germany) and Brussels Charleroi (Belgium)
Luxembourg Old City Fortress, a UNESCO World Heritage Site since 1994
World class Philhamonie concert hall, theatres, cinemas, good healthcare. Pompidou Centre and opera in Metz (France).