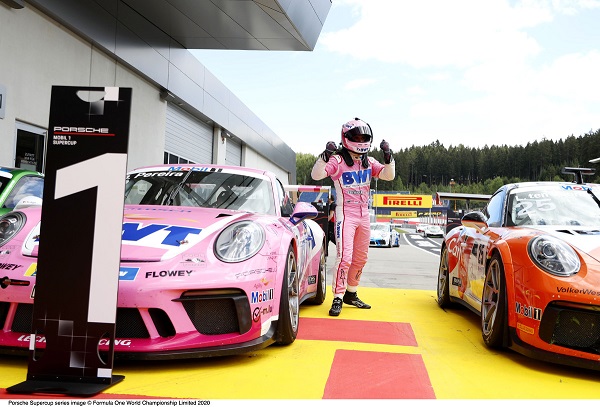 Dylan Pereira; Credit: © Porsche Mobil 1 Supercup, Spielberg 2020
Luxembourg racing driver Dylan Pereira had taken the lead in the 2020 Porsche Mobil 1 Supercup after winning the second race of the season in Spielberg in Austria over the weekend.
Dylan Pereira was the fastest in free practice, stood out in timed practice and won the second race of the season during the second weekend on the Red Bull Ring circuit. Despite bad weather all day on Saturday, which forced the postponement of the qualifying session to Sunday morning, just a few hours before the race, the Luxembourger was confident from the start.
The week before the race, Dylan Pereira and his team had analysed the first race and adjusted the parameters of the Porsche 911 GT3 Cup.
In the second part of the free practice tests over the weekend, the Luxembourger had a perfect lap and set the fastest time. The timed practice sessions, which were rescheduled from Saturday afternoon to Sunday morning due to heavy rain, Dylan Pereira warmed up his tyres, tested the limits and set the fastest time before returning to the pit for the final adjustments and the tyre change. Back on the track, the last few minutes of qualification were hotly contested; the Luxembourger had some grip difficulties, but, despite this, he obtained 3rd place for the starting grid.
In the race itself, Dylan Pereira got off to an excellent start, immediately moving to 2nd place and, on the second lap, he made a spectacular overtaking, with two wheels on the grass, and took the lead. Round after round, he took advantage of his opponents, winning the race almost four seconds ahead of the 2nd place winner.
Following this successful second round of the championship, Luxembourg's Minister of Sports Dan Kersch congratulated Dylan Pereira on his "superb victory" and wished him continued success for the remainder of the season.
The Luxembourg racing driver will return to competition next week, from 17 to 19 July 2020, for the third race of the Porsche Mobil 1 Supercup in Budapest, which opens the Hungarian Grand Prix of Formula 1.