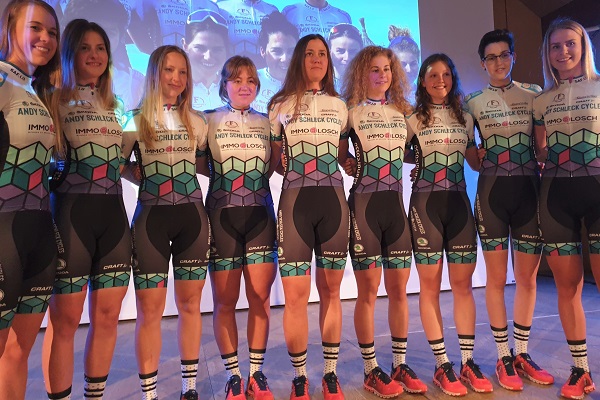 Andy Schleck Cycles Women Project; Credit: MEGA
Local associations organised a series of activities across Luxembourg last Friday on the occasion of International Women's Day.
One major activity held on 8 March 2019 in Luxembourg was a strike organised by the JIF2019 platform and its 20 member associations. The demonstration called for equal pay, the refusal of any gender-based violence and for more equality in political decision-making.
Indeed, Luxembourg Minister for Equality between Women and Men Taina Bofferding attended meetings that same day on the visibility given to women in the public space, participation in social and political life and recognition in sporting activities. In addition to attending the JIF2019 strike in downtown Luxembourg City, Minister Bofferding visited the new Lenkeschléi district in Dudelange, where local elected officials presented the "women's streets" initiative in honour of six women from the canton who have made their mark in the public space.
Finally, in the early evening, Minister Bofferding travelled to Mamer to participate in the presentation of the high-level athletes of the "Women Cycling Project" which promotes women's cycling in Luxembourg. The project helps give these female athletes a platform.