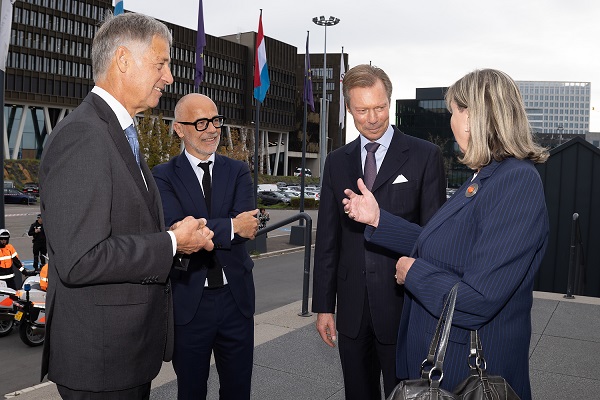 (L-R) Henri Kox, Luxembourg's Minister of Housing; Morgan Gromy,Director General of Luxexpo the Box; the Grand Duke of Luxembourg; Lydie Polfer, Mayor of the City of Luxembourg; Credit: © SIP / Claude Piscitelli
The official inauguration of Luxembourg's National Housing Week took place today in the presence of the Grand Duke of Luxembourg, alongside the Mayor of the City of Luxembourg, Lydie Polfer, and Luxembourg's Minister for Housing, Henri Kox, at Luxexpo the Box in Luxembourg-Kirchberg.
This joint event, co-organised by the Ministry of Housing and Luxexpo the Box, marks an important moment for housing in Luxembourg, the ministry stated.
In his address, Minister Henri Kox highlighted the pressing challenges that the housing sector faces in Luxembourg and underscored the importance of the National Affordable Housing Strategy. He stated, "We have altered our course. I am committed to ensuring that every individual has the opportunity to reside in decent housing. This stands as the overarching objective of the housing policies implemented over the past five years."
Running from Thursday 5 to Sunday 8 October 2023, the Home Expo brings together a diverse array of housing stakeholders in Luxembourg, making their expertise and services available to the public. This includes government institutions, administrative bodies, public and private developers and financial institutions.
The event is being held at hall 9 of Luxexpo, providing a comprehensive platform for attendees to explore various aspects of housing in Luxembourg. Visitors can expect to find valuable information on financial assistance for rentals, property access and renovation, courtesy of the Single Counter for Housing Aid team. Additionally, researchers from the Housing Observatory will be on hand to share insights into housing, property and land trends in Luxembourg.
National Housing Week serves as a forum for addressing housing issues in the country and fostering dialogue among key stakeholders.