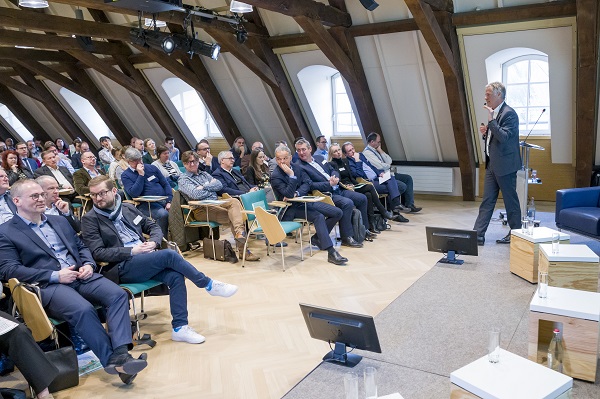 Luxembourg's Minister of Housing, Henri Kox, presents national affordable housing strategy; Credit: © SIP / Jean-Christophe Verhaegen
On Wednesday 22 February 2023, the "Assises du Logement" housing conference brought together 175 representatives of more than 75 organisations in the sector.
On the agenda were housing issues in the private market and the creation and management of affordable housing. According to Luxembourg's Ministry of Housing, the event took the form of a structured dialogue that the ministry intends to repeat and systematise in the future, in order to bring together the driving forces of the sector around the national affordable housing strategy.
In addition to presenting the reforms and measures within this strategy, Luxembourg's Minister of Housing, Henri Kox, presented proposals for improving the new draft laws on affordable housing and the rental lease. A first adaptation, that of the rent subsidy, came into force in 2022 as part of the measures decided during tripartite discussions. The ministry has increased its budget from €10 million to €25 million for this subsidy alone.
The exchanges between the actors of the sector were organised around two debates: the challenges of the private housing market and the creation of affordable housing.
New proposals to support the sector and better protect tenants included: accelerating the development of affordable housing; purchasing private projects for "sale in future state of completion"; introducing tax measures that support first-time buyers; reforming the rent ceiling (to tackle excessive rents and provide landlords, tenants, etc. with the necessary means to ensure fair rents for everyone).
The next step, according to the Housing Ministry, is to review the improvements to the draft laws based on the debates held and the points of view exchanged, before formalising them and presenting them in the form of amendments in the coming weeks and months.
"With the national affordable housing strategy, the milestones have been laid. Now, it is a matter of adjusting and accelerating the activation of its various levers to ensure targeted and coordinated implementation with all the players concerned," concluded Minister Kox.
The next such meeting with housing stakeholders is scheduled for 11 May 2023.