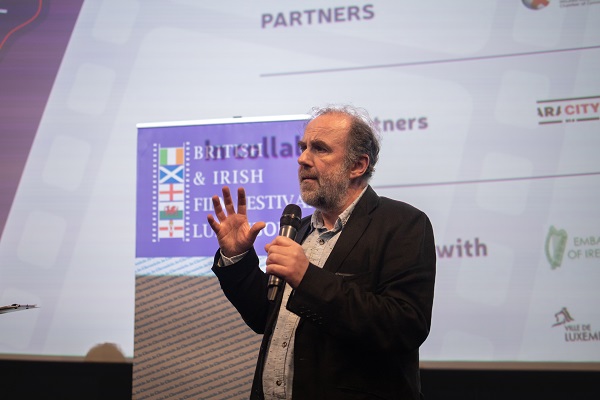 Lorcan Cranitch; Credit: Ali Sahib
The British & Irish Film Festival Luxembourg (BIFFL) held its first Spring Festival this year, from Sunday 19 to Friday 24 March, with the closing screening taking place at Ciné Utopia on Friday evening.
The special guest for this edition was Irish actor Lorcan Cranitch, who stars in three of the films screened as part of the BIFFL 2023 Spring Festival: Roíse & Frank (opening screening), Tarrac and Lakelands. The first two are Irish-language films.
Over the past 30 years, Dublin-born actor Lorcan Cranitch has starred in various (primarily) Irish and British television shows and films, including Cracker, Ballykissangel, Rome, The Bill and Dancing with Lughnasa, as well as several Irish-language productions such as those screened in Luxembourg during the BIFFL 2023 Spring Festival. Since 2021, he has been playing Detective Superintendent Jackie Twomey in the BBC crime drama series Bloodlands.
In the Q&A session that followed the BIFFL screening of Roíse & Frank on Monday 20 March 2023, Lorcan spoke about the significance of Irish-language productions for local areas and communities in Ireland, as well their role in highlighting Irish language, culture and sport, among other things, abroad. He noted that this particular film had proved especially successful in the United States.
He later spoke to Chronicle.lu further about the revival of the Irish language and the rise of Irish-language cinema, which has been greatly facilitated by the Cine4 funding initiative in Ireland. Discussing how Ireland is and has been typically portrayed in the film industry, particularly abroad, Lorcan emphasised the need to develop projects that "bring this image up to speed, into the 21st century", showing the country's real culture, rather than continuing to perpetuate often negative or outdated stereotypes. He particularly praised films like Tarrac for the way in which they highlight a real aspect of contemporary Irish life, in this case the sport of Naomhóg racing. "This is an image we should be fostering rather than just the old version of who we are", he said. Lorcan added that Ireland had proved that its language has "a place in the world of cinema" and that it is a strong country in terms of its culture and sports on the world stage. "To be able to go further in that using our own native tongue is a great achievement," he concluded.
This was Lorcan's second visit to Luxembourg, the first having been part of a fondly remembered albeit short school trip about 40 years ago.