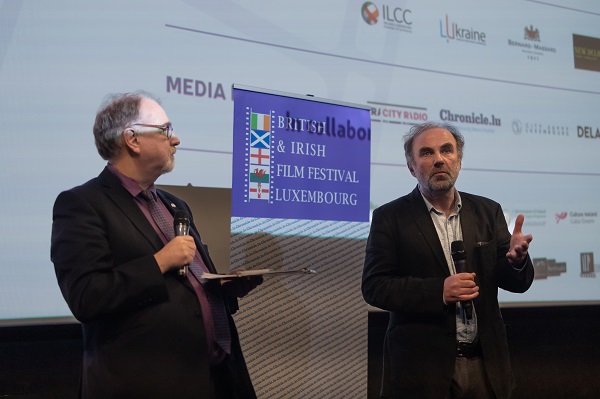 (L-R) Geoff Thompson, festival coordinator; Lorcan Cranitch, Irish actor; Credit: Ali Sahib
On Monday evening, the 14th edition of the British & Irish Film Festival Luxembourg (BIFFL) opened to around 100 people at Ciné Utopia in Luxembourg-Limpertsberg; this year's festival comprises both a Spring Festival (19-24 March) and an Autumn Festival (18-22 September).
Geoff Thompson, Festival Organiser and President of Festival Events Asbl, spoke about this year's diverse array of films: eleven feature films will be shown in total at Ciné Utopia between 19 and 24 March 2023, with five Irish films, two Scottish films, two Welsh films and three English films (one of the films is an Irish-Welsh co-production).
Liz O'Malley, Deputy Head of Mission at the Irish Embassy in Luxembourg, described 2023 as a "banner year for Irish film, with the first Irish film ever to be nominated for the Oscars" (An Cailín Ciúin - The Quiet Girl), this having a large positive impact on the film and its filming locations. She praised this year's BIFFL initiative for showing a diverse range of films, including a documentary and Irish-language films.
Before the opening screening, the audience watched the short documentary Solidarity 365 by Ali Sahib, which focused on solidarity in Luxembourg towards the people of Ukraine, specifically the Solidarity March on 25 February 2023, marking 365 days since Ukraine's resistance started, including interviews with people in positions of authority detailing what solidarity means to them.
The festival's special guest, Lorcan Cranitch (actor), was present during and after the screening of Róise & Frank, an Irish-language comedy drama directed by Rachael Moriarty and Peter Murphy. It follows the life of a widow, Róise, who lost her husband Frank two years ago. When she suddenly meets a mysterious stray dog who connects with her, she starts to believe that he is the reincarnation of her husband. This worries her son, who believes his mother may be delusional, but the dog's arrival greatly improves Róise's and the community's lives by being an encouraging, positive presence and "coaching" a local boy to become a star hurling player. This is a feel-good film, with many touching and funny moments.
Following the screening, Lorcan Cranitch, who starred in the film, answered questions from Geoff Thompson and the audience. He spoke about the success of the film in Ireland and abroad, particularly in the United States, and the positive impact of such projects in the local community.
The 14th edition of the British & Irish Film Festival Luxembourg is running until Friday 24 March 2023. Further details are available at https://www.bifilmseason.lu/.