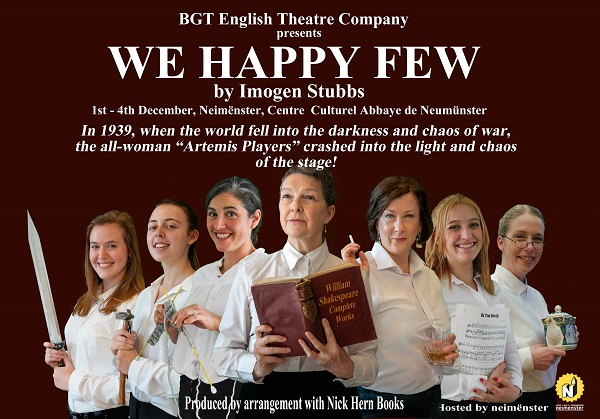 Chronicle.lu got the opportunity to sit in on the opening night performance of the BGT English Theatre Company's latest production, "We Happy Few", at Neumünster Abbey (neimënster) on Wednesday evening.
BGT, under the direction of Tony Kingston, has made it its mission over the past 30 years to showcase a variety of English-language plays, first in Germany and then in Luxembourg. Founded in Berlin in 1991, the company has been based in the Grand Duchy for several years now. In recent years, BGT has focused particularly on promoting plays by and about women, as well as showcasing Luxembourg's young acting talent.
"We Happy Few" fits perfectly with this agenda: written in 2004 by British actress Imogen Stubbs, the play tells the story of an all-female theatre company which challenges male-dominated British society at the start of the Second World War. The Artemis Players, based on the real-life Osiris Players, face several obstacles as they attempt to bring theatre to the furthest-flung parts of Britain.
Following the BGT's successful one-woman show "The Road to Huntsville" earlier this year, this light-hearted ensemble piece beautifully portrays the struggles and achievements of women (and a life in theatre) during a period which changed the lives of both women and men in many ways. The production is full of humour, but also empowerment, as women from different backgrounds join forces to prove themselves and pursue their dreams. Their first task? Putting on a convincing performance of Macbeth, with limited time and resources…
As company director Hetty Oak (played by June Lowery) highlights in the play: people turn to the arts to "nurture the soul". Whilst Hetty is referring to bringing theatre to the public during wartime, the audience at neimënster could draw parallels with contemporary society: the dark times we have experienced during the COVID-19 pandemic and the impact of the health crisis on theatre and the arts in general.
Once again, BGT brings together a stellar cast and proves just how important the arts are for the soul. And if there is one scene in "We Happy Few" that should not be missed, it is the impressive two-women sword fight – not something you see on stage every day!
The remaining performances of "We Happy Few" are taking place at neimënster on Thursday 2 and Friday 3 December at 19:30 and on Saturday 4 December at 14:30 and 19:30. Tickets cost €20 (€12 for students) and are available from neimënster via tel.: 262-052 444 or online at www.neimenster.lu.