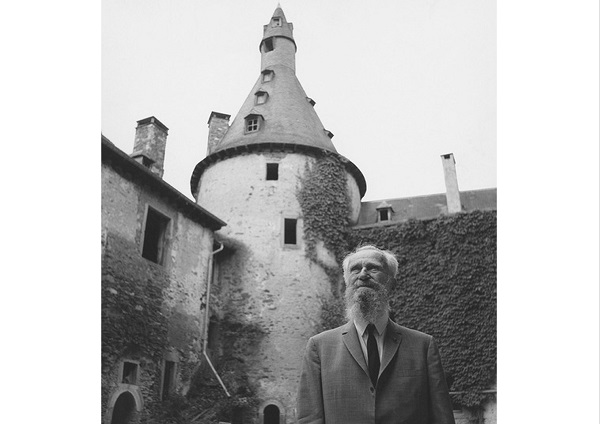 Edward Steichen in the court of Château de Clervaux, 1966 (Collection Marcel Schroeder); Credit: © VdL Photothèque
Luxembourg's Ministry of Culture has recalled that Saturday 25 March 2023 marks the 50th anniversary of the death of Luxembourg-born photographer Edward Steichen.
Born in Bivange in Luxembourg on 27 March 1879, the young Édouard Jean Steichen was eighteen months old when his parents emigrated to the United States. His life was marked by a long, rich and varied artistic career, noted the Culture Ministry. Best known for his photographic work, he was also a painter, filmmaker, curator, gardener and passionate experimenter.
As director of the photography department at the Museum of Modern Art (MoMA) in New York, Edward Steichen created two exhibitions in the 1950s and 1960s that have left a mark in the history of photography: "The Family of Man" and "The Bitter Years". Created at the height of his career, they sum up his approach to photography as a curator, according to the Culture Ministry.
As a tribute to his native country, Edward Steichen bequeathed an important body of work to the Grand Duchy: the two collections "The Family of Man" and "The Bitter Years", held by the Centre National de l'Audiovisuel (CNA), illustrate his work as a curator at MoMA, while the collection of the National Museum History and Art (MNHA) provides an overview of his career as a photographer.
"The Family of Man" is a permanent exhibition at the Château de Clervaux, listed in the UNESCO Memory of the World. There is also a current exhibition at the MNHA called "Inspired by Steichen", as well as the cabinet exhibition "The Artist's View", curated by artists Erwin Olaf and Hans Op de Beeck, which highlights 20 photographs by Edward Steichen from the MNHA.