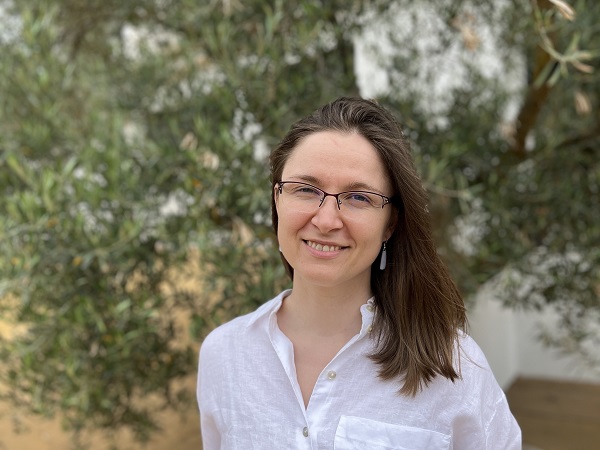 Iryna Sagaidak;
Chronicle.lu recently had the opportunity to speak with Luxembourg-based bodywork practitioner Iryna Sagaidak about her new wellness business, MindfulBody, and her entrepreneurial experience.
Iryna embarked on her self-employment journey in Luxembourg last year and has since been offering her services related to chronic pain issues, as part of MindfulBody.
Chronicle.lu: Please tell us about your background and what inspired you to embark on this new professional endeavour.
Iryna Sagaidak: Do you know the typical modern office worker's story of chronic pain in the back, neck and shoulders? That is where the journey started for me. A couple of years with chronic pain and the start of the pandemic lockdown made me realise that I need[ed] and want[ed] to make a change. By that time, I had done all the standard medical check-ups and treatments, but they did not really help in the long term. So, I started to educate myself about human anatomy and explore in-depth different movement practices, exercising and self-massage techniques. The big shift happened when I discovered modern scientific findings in the field of neuroscience. I was surprised to learn to which degree chronic pain, fear and movement limitations are intertwined and feeding each other. And, actually, there is a number of somatic education methods that can untangle this interrelation and retrain the nervous system, [including] the Feldenkrais Method. As I progressed and felt improvement myself, I started to want to share what I found with others. Somehow, at that point in time, changing my career from project management (with a previous background in science) to bodywork therapy did not sound that crazy.
Chronicle.lu: Tell us about "Awareness Through Movement" and the main services you offer. What benefits do you hope your services/classes will bring to clients?
Iryna Sagaidak: Gentle movement and directed attention can do miracles if you let them. These are two of the main tools that Awareness Through Movement of the Feldenkrais Method uses to help people learn more effective ways of organising themselves in movement and beyond. This technique is one of the fundamental pillars of the Mindful Movement work I do. I help people explore the possibility of reducing parasitic muscle tensions and restore better use of the skeleton as a support structure for the long-term effect. This is possible thanks to the quality of neuroplasticity (the ability of the nervous system to change). Most of the time, I work with people in a one-to-one setting, focusing on the specific needs and circumstances of each person. In individual work, the central piece is the exploration of the habitual ways in which a person moves and organises their body, what limits their movement and how the combination of the above triggers and sustains their current state. Together, we search for the available ways to improve and gradually add new easier options to the movement repertoire for a long-lasting change. I also teach weekly group Mindful Movement lessons (currently online) and occasionally organise workshops dedicated to such topics as improving posture, finding ease in movement, chronic pain and others. I thrive to help people experience how much better they CAN be and feel in their own bodies, starting right where they are. I equip people with tools and ways in which they can use what they learn with me in daily life.
Chronicle.lu: Who is your main target audience/client base? What are some of the main problems identified?
Iryna Sagaidak: Most people come to me with chronic pain issues (headaches, back pain, neck and shoulder pain, sciatica, etc.), either related to poor posture or old injuries. Also, I often work with women to help them reconnect with their bodies and find inner support to smoothly adapt to body change and new movement requirements during pregnancy, postpartum recovery, menopause transition or during chronic fatigue and weakness periods. Many of my clients are people who have gone through all the procedures of conventional medicine (taking care of the structural and biochemical fronts first) and who would like to take their well-being one step further, towards a higher quality life.
Chronicle.lu: How was the process of setting up your own business in Luxembourg? What have been some of the challenges?
Iryna Sagaidak: At times, the pace of setting everything up felt very slow, but I guess this is how starting the business simply is - always a little bit slower than one would wish for. I decided to convert a part of my house into a practice space, so it took time to create a separate entrance and all the needed facilities from scratch. But now, after a year of preparations, it's all ready and I am happy to be able to receive individual clients here. A separate challenge is educating people about somatic education and its benefits as this field is not yet widely known in Luxembourg.
Chronicle.lu: Did you have to (or choose to) follow certain training courses?
Iryna Sagaidak: At the beginning of my journey, I trained in classical and deep-tissue massage techniques in France. Then, in 2021, I embarked on the four-year Feldenkrais training journey towards becoming a full Feldenkrais practitioner (800 hours) in Brussels. Currently, I am in the third year of training and I am qualified to teach the Awareness Through Movement part of the method. The rest of my knowledge, especially the theoretical parts of anatomy and neuroscience, came from books and research papers mainly.
Chronicle.lu: Where do you hope to see your business one to five years from now?
Iryna Sagaidak: In the upcoming years, I hope to demystify the "chronic pain" and "good posture" concepts through Mindful Movement to a wider public in Luxembourg. To help people learn how to use neuroplasticity in the movement to forget about painkillers and limitations of familiar leisure activities. And finally pull out a tennis racket from the depths of the closet or easily lean [in] to kiss their child goodnight.