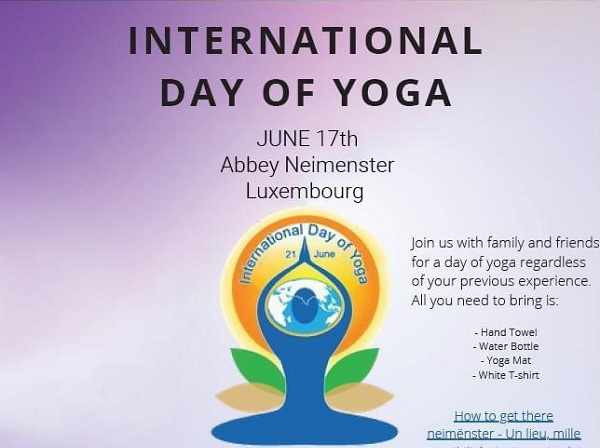 The Embassy of India in Brussels, in association with the Indian Association Luxembourg (IAL), the Abbaye de Neumunster and other, are holding an International Day of Yoga at the Abbaye de Neumunster in Luxembourg-Grund (28 Rue Münster) on Saturday 17 June 2023 from 09:30 - 13:00.
This event celebrates the holistic practice of yoga and invites people of all ages and backgrounds to experience the transformative power of this ancient discipline.
The day begins at 09:30 with participants arriving and settling in for a rejuvenating day ahead. From 10:00 to 10:20, participants will engage in gentle loosening exercises, known as Chalana Kriyas, to prepare their bodies for the practice that lies ahead. This will be followed by a short break until 10:30.
During the break, attendees will have the opportunity to join one of four groups, each led by a skilled instructor. Sri Kolla, Aditya Sharma, Avanti Sharma and Shalini Saxena will guide participants through the various sessions, ensuring a personalized and enriching experience for all.
The first of these sessions commences at 10:30 and continues until 11:15, allowing participants to delve deeper into the foundational aspects of yoga. Following a short break untuil 11:30 am, participants will reconvene for the second session, running until 12:15, which will build upon the learnings from the first, further enhancing their practice.
After a final break until 12:30, participants will gather for the Mandala and closing ceremony led by Aditya Sharma, yoga instructor. This sacred practice brings together one's collective energy, fostering a sense of unity and harmony as participants conclude the event.
The serene surroundings of the abbey provide the perfect backdrop for this day of self-discovery and wellness.
Practical Information:
Arrival Time: 09:30
Loosening exercises (Chalana Kriyas): 10:00 - 10:20
Break: 10:20 - 10:30
Session 1: 10:30 - 11:15
Break: 11:15 - 11:30
Session 2: 11:30 - 12:15
Break: 12:15 - 12:30
Mandala and Closing: 12:30 - 13:00 (by Aditya Sharma)