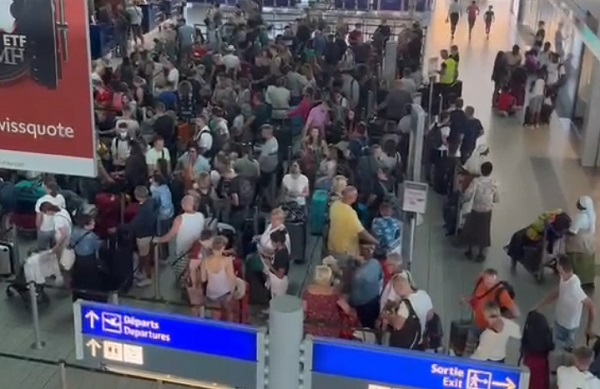 Luxembourg Airport, 2 August 2022; Credit: Chronicle.lu
In light of reports of increased waiting times at Luxembourg Airport in recent weeks, Chronicle.lu reached out to Alexander Flassak, CEO ad interim at lux-Airport, the operating company of Luxembourg Airport, to discover the reasons behind longer queues and what is being done to address this.
Several travellers have complained about unusually long baggage drop-off and security queues at Luxembourg Airport recently. When asked if these extended waiting times were due to staff shortages and / or increased demand for flights, Mr Flassak explained that a large number of passengers had returned to the airport after the COVID-19 period. "Fortunately, and in contrast to the pandemic-ridden years of 2020 and 2021, we are again seeing high passenger numbers in the Terminal during the holiday periods", he said.
"Even though the total number of passengers in 2022 will still be well below that of 2019, we see short peak phases that significantly exceed the peak phases of 2019", Mr Flassak continued. "This is due to an accumulation of departures during certain peaks which consequently lead to a very high passenger volume in the Terminal. However, this affects limited peak times, while at other times the waiting times for passengers are relatively short and processes run smoothly".
On the subject of staffing, Mr Flassak noted that lux-Airport had not reduced its total staff number during the COVID-19 pandemic and "kept all employees in full employment without having to make use of short-time work (chômage partiel)". He added: "Besides, security checks in the Terminal are a priority. If necessary, staff can be re-allocated from other security access points at the airport". He also recalled that it was generally recommended that "all passengers arriving individually reserve a parking space, if possible, use the evening-before check-in and arrive at the Terminal at least two hours before departure" to reduce waiting times at the airport.
Regarding the observation by some travellers that not all check-in desks have been manned recently, Mr Flassak recalled that "lux-Airport provides the check-in counters and related technical infrastructure. The actual staffing is a matter for the ground handler based on the airlines' requirements and commercial agreements".
Travellers passing through Luxembourg Airport recently also observed the presence of entertainers, for example earlier today (Tuesday 2 August 2022), passengers could enjoy entertainment by dressed-up men on stilts (also known as "Happy Agents"). When asked if such entertainment had been organised in anticipation of longer waiting times, Mr Flassak commented: "Beyond additional staff at the car park entrances and in the Terminal to help passengers find their way around and prepare for security checks, this year the so called Happy Agents were and will be deployed in peak phases to entertain passengers and especially their children to help bridging waiting times".
Increased waiting times are not unique to Luxembourg Airport, however, with many airports across Europe currently experiencing long queues and delayed or cancelled flights. Just last week, several Luxembourg travellers were impacted by flight cancellations in relation to a strike of Lufthansa ground staff.