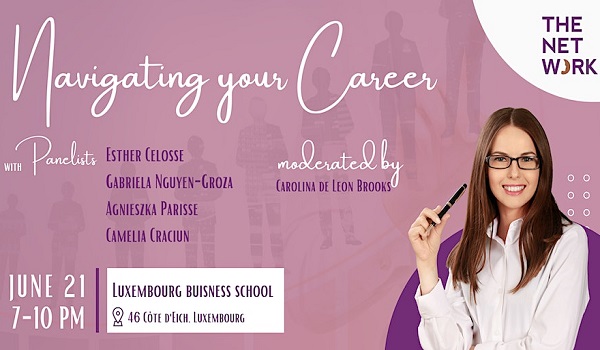 Credit: The NETWORK
Luxembourg-based international professional women's association The NETWORK has announced that it is organising an event dedicated to "Navigating your Career" on Wednesday 21 June 2023 at Luxembourg School of Business (46 Côté d'Eich, 1450 Luxembourg), from 19:00 to 22:00.
The NETWORK noted that the COVID-19 pandemic sparked a global conversation about the "Great Resignation", which has seen several professionals voluntarily leave their workplace in search of careers that better align with their professional goals, personal needs and overall work-life balance. This event is thus aimed at anyone looking to start a new career, return to work after a break or make a career change.
The event takes the form of a panel discussion, moderated by Carolina de Leon Brooks, recruiter at the Luxembourg Institute of Science and Technology (LIST), and featuring the following panellists: Esther Celosse, founder of Return2Career; Camelia Craciun, CEO and headhunter at Proferens Headhunting & HR Solutions; Agnieszka Parisse, partner at Anderson Wise; Gabriela Nguyen-Groza, founder and managing partner at Amrop Luxembourg.
The expert speakers will share their personal experiences and insights on how to successfully navigate the challenges and opportunities of starting a new career, providing practical advice and guidance for anyone looking to make a change. They will present practical strategies for identifying one's strengths and passions, building a strong personal brand, networking effectively and creating a fulfilling and sustainable career path.
This event is free for members of The NETWORK or €20 for non-members. Registration is mandatory via Eventbrite.