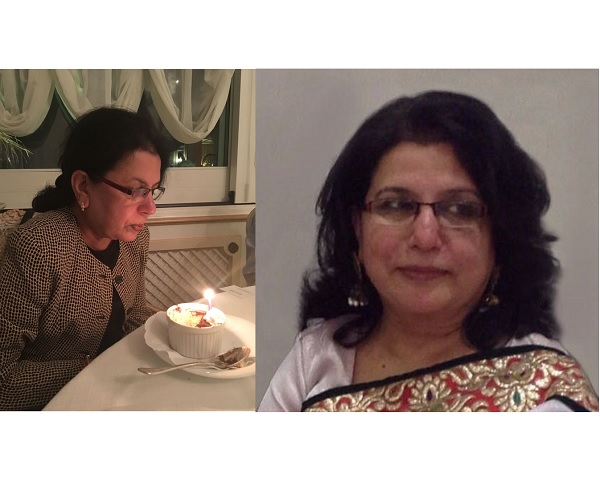 Kubra Sherwani;
The Indian Association Luxembourg asbl (IAL) sent in the article below to pay tribute to a woman who gave so much to her family, friends and community that her passing just simply had to be recognised publicly; but perhaps the greatest tribute to Kubra Sherwani was given in the hospital following her accident just hours into New Year's Day 2018.
She was rushed to hospital after a fall on the stairs at home resulted in a serious head injury and, according to her brother-in-law, Ali "Yezdiyar" Sherwani, from the moment she was at the Centre Hospitalier until her passing on 4 January, the halls and waiting area of ICU were packed with people who she had befriended during her time in Luxembourg to offer support to her husband, Ali Asghar Sherwani, and their son Shanu.
"A lot of people loved her," Ali (Yezdiyar) said, telling a story of how he one day spotted her at a travel agentcy, and he went in to see her as she was inviting the travel agent who helped her to dinner. "Do you know her?" he asked. "Why, that's Janice," Kubra said. "She's been very helpful." Kubra was like that, Ali said, she never met a stranger she did not warmly welcome, always reached out to people and often invited them to her home. "Their home was always full of people," he said.
Kubra arrived in Luxembourg as a young bride, straight from India, and lived here since 1974 with her husband, known throughout Luxembourg and beyond for his 'Desi Vibes' show on Radio ARA. "She grew up here in a way, she made her life here, and she touched the lives of so many people. She will truly be missed," Ali said. Most especially by her husband, her son and her son's three children, but also by the countless people who Kubra reached out to and made them feel noticed, cared about and even loved.
Indian Association Luxembourg tribute to Kubra Sherwani
​IAL regretfully informs its members and friends the unexpected loss of one of its most respected and loved members with the death of Mrs Kubra Sherwani on 4 January 2018.
Whereas IAL has lost a valued, respected and honoured member and mentor of its team with Kubra's demise, her contributions and efforts to support IAL and the wider community, or to help those less fortunate, will always be remembered.
Although never having held an IAL office title by her own choice and preferring to stay in the background, Kubra - since the formation of IAL - was always an inspiration and participated in all events either by leading or helping in whatever way she could.
Kubra was a great advocate of the promotion of Indian culture and the ideals and principles of IAL and worked tirelessly to inspire the youth of the community.
Kubra will always be remembered for her sense of humour, talent, kindness, energy and having enriched the lives of those who were fortunate enough to having worked with her or knowing her personally.
In tribute and in remembrance to Kubra, the IAL committee would like to respectfully inform that the charity account of IAL will now be renamed as the IAL Kubra Sherwani Charity account and any and all donations received as always be used to help the less fortunate children of the world, or other charitable projects in which the IAL is involved.
The Indian Association Luxembourg asbl extends its sincere and heartfelt condolences to the family.​