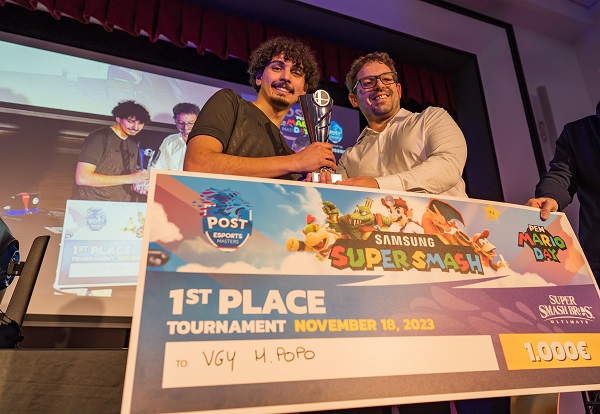 Samsung Super Smash tournament winner M. Popo pictured with Mario Treinen of POST Luxembourg; Credit: POST Luxembourg
On Saturday 18 November 2023, more than 1,000 people took part in the "Mario Day" organised by POST Esports Masters at the cultural centre in Junglinster.
This event was entirely dedicated to the world of Nintendo Mario, offering activities adapted to all ages and skill levels, from tournaments and challenges to game tests, including a retrogaming area.
According to the organisers, the highlight of the day was "Samsung Super Smash", a Super Smash Bros Ultimate tournament (on Nintendo Switch) with a cash prize of €2,000. A total of 96 players participated in the competition with M. Popo winning first prize, followed by Leon in second place and Yano Barberi in third place.
Throughout the day, visitors tried to achieve the best time in Mario Kart 8 Deluxe (on Nintendo Switch). The fastest player and thus the winner of the latest Samsung smartphone was Nick Roeser (aka "Kakpu").
The 2024 POST Esports Masters season will take place according to the usual format, with three esports championships and a prize of €20,000 to be won throughout the season. The list of games and registration details will be announced in December 2023, with some changes from previous years. This fifth season of POST Esports Masters is organised by POST Luxembourg in collaboration with Rift Entertainment asbl.