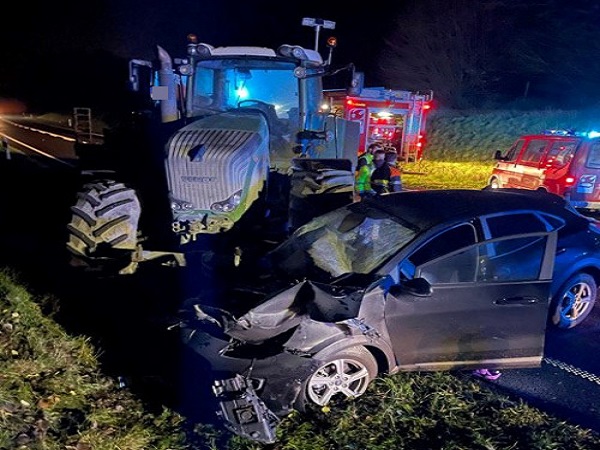 Credit: Police Grand-Ducale
The Grand Ducal Police have called for witnesses to a serious traffic accident that occurred on the N15 on Wednesday.
At around 17:15, a car with four occupants was headed towards Heiderscheid (northwestern Luxembourg) from Niederfeulen (central Luxembourg) when the driver lost control of the vehicle during an overtaking manoeuvre. The driver collided head-on with an oncoming tractor on the opposite side of the road.
After receiving first aid on site, the victims were taken to hospital. Four people were injured, including one who suffered serious injuries. Update: the Grand Ducal Police confirmed on Thursday afternoon that one of the victims, a 15-year-old girl, passed away last night in hospital as a result of her injuries.
In order to clarify the exact circumstances of the accident, witnesses are asked to contact the police via the emergency number 113, tel.: 244-851000 or email: police.turelbaach@police.etat.lu. Police are specifically looking for a lorry driver and two other drivers who are believed to have witnessed the accident.