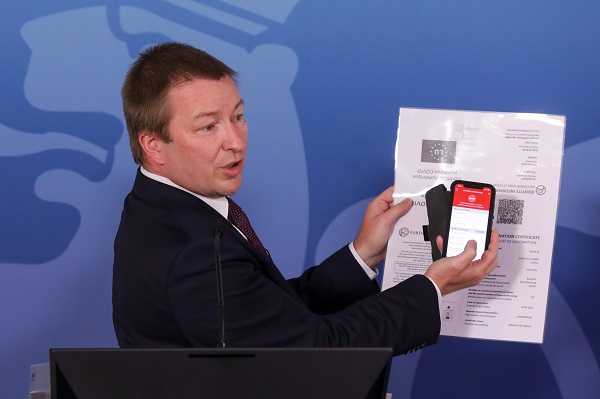 Marc Hansen, Luxembourg's Delegate Minister for Digitalisation; Credit: SIP / Luc Deflorenne
On Thursday afternoon, Luxembourg's Minister of Health, Paulette Lenert, and the Delegate Minister for Digitalisation, Marc Hansen, held a press conference on the modalities of issuance and use of the European Union's (EU) digital certificates and the operation of the CovidCheck.lu national mobile application.
Health Minister Paulette Lenert began by clarifying that Luxembourg's CovidCheck system will revolve around three certificates, proving that an individual has been vaccinated against COVID-19, tested negative for the virus or recovered from the virus in the past six months. The certificates will be available both on paper and digitally, via MyGuichet and on the new CovidCheck.lu app, which is now available on the Apple App Store and the Google Play Store.
The concept is based on the EU Digital COVID Certificate, which will come into effect on 1 July 2021. Whilst such certificates are expecting to facilitate travel within Europe, Minister Paulette Lenert stressed that these are not passports, with travel restrictions varying between countries.
From 13 June 2021, the date on which the new COVID Law is set to enter into force in Luxembourg, the national certificate can be used in all areas where rapid tests are requested at present. The certificate will thus facilitate access to restaurants and bars, but also to events, such as concerts and football matches, where gatherings of up to 300 people will no longer require prior authorisation from the Ministry of Health, provided they register to use the CovidCheck system.
The Health Minister described the initiative as "very ambitious" but dependent on everyone following the rules in place. She warned that the pandemic is not yet over.
Delving deeper into the specificities of the different CovidCheck certificates, Minister Paulette Lenert clarified that the vaccination certificate served as proof that an individual had been fully vaccinated with one of the four vaccines currently authorised for use in Luxembourg, i.e. BioNTech / Pfizer, Moderna, AstraZeneca and Johnson & Johnson. Individuals are considered fully vaccinated from the day after their second jab with one of the first three vaccines or fourteen days after receiving Johnson & Johnson's single-shot vaccine. Alternatively, individuals who have tested positive for (PCR) and recovered from the virus within the past six months will be considered fully vaccinated after one dose, although those concerned may also choose to receive their second jab. She added that, in alighnment with EU regulations, Luxembourg will extend the validity of negative rapid test results from 24 to 48 hours from 13 June. PCR tests remain valid for 72 hours.
People who have been fully vaccinated will be able to access their CovidCheck certificate via MyGuichet.lu. Certificates for those who have recovered from COVID-19 will be valid between the 11th and 180th after their (positive) PCR test.
Luxembourg's Minister for Digitalisation, Marc Hansen, clarified the process further, noting that the CovidCheck certificates are equipped with national QR codes which are controlled by the CovidCheck.lu app. He added that the codes are readable Europe-wide; both the paper and digital versions can be scanned using CovidCheck.lu. If a certificate is valid, a green result will show within seconds; otherwise, a red result will appear - as Minister Marc Hansen showed in a live demonstration.
The Digitalisation Minister stressed that huge efforts had gone into getting this system ready. The old QR codes have already been updated and, as of today, vaccinated individuals will receive the new certificates. Similarly, PCR test results will include the updated QR codes. Everyone who has already been fully vaccinated will also receive a printed version in the post (also accessible via MyGuichet).
Due to the mass generation of QR codes, Minister Marc Hansen warned that around 2% could experience data transfer issues. Those concerned can request a new code via MyGuichet. Next week, the authorities will finalise the details regarding certificates for those who have recovered from the virus.
The minister pointed out that all the relevant information concerning the new CovidCheck certificates is available on MyGuichet.
Minister Marc Hansen noted that personal data, such as dates of birth, will not be stored on the server, but displayed only on the screen once the QR code is being scanned. Minister Paulette Lenert added that establishment owners and event organisers are not obliged to carry out ID checks, but advised the public to carry their identity documents with them, in case of police controls.