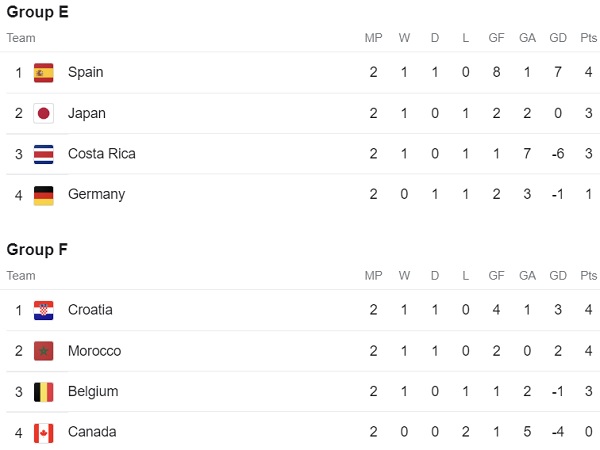 Sunday 27 November 2022 saw the third group of eight teams, from Groups E and F, play their second group matches in FIFA World Cup 2022.
On the issue of attendance numbers, confusion rained as the organisers had reported figures greater than official capacity figures. This has been clarified by two explanations: firstly, the capacity figure is the reference capacity that meets the FIFA requirements, with the final capacity during event mode being higher, and; secondly, FIFA are counting 'tickets sold' rather than numbers through the turnstiles. Regarding the former, the following figures illustrate the discrepancies noticed:
Qatar vs Ecuador – 67,372 (Stadium capacity = 60,000)
England vs Iran – 45,334 (Stadium capacity = 40,000)
Senegal vs Netherlands – 41,721 (Stadium capacity = 40,000)
USA vs Wales – 43,418 (Stadium capacity = 40,000)
Group E
In the early match, Japan played Costa Rica at the Ahmad bin Ali Stadium, in 33C which may see officials introduce 3-minute water breaks mid-way through each half. Japan had defeated previous champions Germany in their first match, so a win here would see them through to the knock-out stages with a game to spare; on the other hand, Costa Rica ghad shipped 7 goals without reply to Spain in their first match, so they were playing to restore some pride. Buy this was the same stadium where Costa Rica had qualified for the tournament finals back in June when they defeated New Zealand in the Intercontinental qualifiers final. Japan announced three changes and Costa Rica two. Japan were immediately on the attack and forced a corner in the first minute but Costa Rica dealt with the threat. On 12 minutes Japan almost opened the scoring when Doan sent in a scintillating cross which flew past the goalkeeper but no teammate was on hand to tap it home. Japan tried to lure Costa Rica out from the back to create space into where they could run, and they varied their tactics by spreading the ball out wide. Gaps were starting to appear in Costa Rica's defence and there was little they could do as, each time they got possession, Japan's midfield would snuff out the threat. But they (Japan's midfield) were also guilty of some sloppy passing, giving away possession needlessly. Costa Rica started to gain in confidence and had more of the ball in Japan's half. On 34 minutes Costa Rica managed a shot on target after good build-up play, but it sailed over the bar. A couple of minutes later, Japan surged forward only for Endo's shot from the edge of the box to be blocked and the move petered out. Japan's confidence was waning, while Costa Rica's was rising. Just 1 minute of added tome announced. HT 0-0; not quite as poor as the England-USA match, but close. In that first half, neither goalkeeper had a shot to save; hopefully this would change after the break. Japan made two substitutions for the second half as they changed formation. Within 30 seconds of the restart, Japan's Morita forced a fine save from Navas, the Costa Rican goalkeeper. 90 seconds later Japan had another chance and Navas saved from substitute Asano's header. This certainly appeared to be a game of two halves as the tempo had risen significantly. A Japanese corner on 49 minutes elicited another block by the Costa Rican defence. On 56 minutes, Japan's Soma shot from outside the box after a well drilled move down the left flank, but the shot was well off target. Japan were building well and it seemed just a matter of time until the opening goal. On 61 minutes Japan were presented with a glorious opportunity when awarded s free kick just outside Costa Rica's box after Duarte received the first yellow card of the game for a foul. Soma took the free kick but it was inches high of the bar. Costa Rica senses the threat and made two substitutions themselves. Ito then came on for Japan as a change up front. Suddenly Japan's Ito was clear on goal was brought down by Calvo who was lucky just to receive a yellow card, the game's second. The free kick was blocked and Costa Rica could breathe again. With 20 minutes to go, the game was opening up. Kamada sent in an enticing cross but again there was nobody on the end of it. Costa Rica had a break and were awarded a free kick. From the ensuing play, Fuller scored for Costa Rica despite Japan's goalkeeper Gonda getting his fingers to the shot, but he had been too far off his line. Amazingly, totally against the run of play, Costa Rica were ahead 1-0 with less than 10 minutes to play. On 87 minutes Japan had a great opportunity to level following great work by Mitoma down the right, with Navas saving with his feet and the ball bobbling in the 6-yard area before Navas claimed it. 6 minutes of added time announced. Another break by Mitoma and again a goalmouth scramble, but Japan could not get the ball into the net. FT 1-0 to Costa Rica. Which means that, potentially, both Spain and Germany could still qualify out of the group.
In the late match, Spain played Germany at the Al Bayt Stadium. Germany, 4-times winner of football's ultimate prize, were up against the 2020 winners. Spain had hit 7 against Costa Rica in their first game, but Germany had cone unstuck against Japan: a defeat here to Spain would leave them with only an outside chance of progression. Spain kicked off and on 6 minutes, Olmo had a rocket of a shot tipped onto the crossbar by Germany's goalkeeper, Neuer. Germany build slowly and break through down the centre of the pitch, slotting the ball through but fir Spain's goalkeeper, Simón, coming off his line to make an important save. Both teams were playing top quality, one-touch football. On 21 minutes, Jordi Alba hit a rasping shot from outside Germany's penalty box, but the shot sailed over the bar. Up the other end, Germany threatened Spain's goal and Gnabry's shot went across the goalmouth without troubling the goalkeeper. Despite the chances at both ends, the game started to become a bit scrappy as both teams were losing possession in midfield. On 32 minutes, Spain broke on the left flank but Ferran Torres could not convert the criss as his shot sailed over the bar. The referee brandished the first yellow card of the game on 36 minutes with Germany's Kekrer the recipient. 3 minutes later, Germany had a free kick on the right which Rüdiger headed home; however, it was ruled out for offside. There was not much between the sides snd one felt that the match would be won and lost on small margins. Just before half-tone, Spain's Busquets found his way into the referee's book with a yellow card for a foul. 2 added minutes. HT 0-0. The second half started the same way mist of the first had been played. On 55 minutes, Germany's Kimmich had a strong shot saved by Simón. And Germany's Goretzka became the 3rd name to be yellow carded, shortly later being followed by Kimmich. In the 61st minute, substitute Morata latched onto a cross by Alba and flicked it into the goal beyond the despairing dive of Neuer in Germany's goal. His 6th goal in his last 9 internationals. 1-0 to Spain. And they could gave had a second just a couple of minutes later. Spain then made a couple of substitutions, shortly followed by Germany changing around 3 players. Musiala then had a couple of chances but could not get the ball in the net. Spain were passing well and were keeping possession. When Germany did get the ball, Spain were defending deep, making it difficult for the opposition to score. With just 20 minutes left, Germany had a free kick on the edge of Spain's box, but Kimmich shot straight into the wall. Teenager Balde replaced Alba for Spain. On 82 minutes, substitute Füllkrug ran onto a ball in the box and shot through the keeper's hands. Germany had equalised. 1-1. Then 6 minutes added time. Both teams were trying to win the game in the remaining minutes. On 95 minutes, Germany's Sané had a mazy run into the box snd tried to round the goalkeeper rather than squaring the ball to Füllkrug. But that was it. FT 1-1. Germany gave 1 point from 2 games and need to win their last match AND hope that the other game's result will go their way.
The last matches in Group E will be played on Thursday and will see Germany against Costa Rica, at the same time as Spain against Japan.
Group F
Belgium, who defeated Canada 1-0 in their opening game, played Morocco, who drew 0/0 with Croatia, at the Al Thumama Stadium. Would this game see more goals? With Belgium ranked #2 and Morocco #22, one would expect that the European side would dominate the North American side, and beat them easily, but this is the World Cup where anything can happen, and does - Saudi Arabia defeating Argentina and Japan beating Germany are testament to that. But the last tome Morocco got out of their group at a World Cup was back in 1986. There was some confusion just after kick-off as Morocco replaced their goalkeeper, Bono, had lined up for the national anthems, yet Mohamedi started between the sticks; it transpired that Bono had not 100% receovered from a knock in their first match. The early minutes in the game saw both teams competing for the ball but Belgium started to dominate both possession and territory as they put Morocco's defence under pressure, with Kevin De Bruyne pulling the strings. On 20 minutes Morocco attacked Belgium's goal with Ziyrch shooting above the bar from long range. On 28 minutes, Belgium's Onana received a yellow card for a dangerous tackle, meaning he would miss the next match against Croatia as he was also booked playing against Canada. Morocco started to get more into the match as they gained more confidence and ventured higher up the pitch. Belgium then attacked up the right and Meunier's cross was gathered safely by Morocco's goalkeeper, Mohamedi. Right wing-back Hakimi then had a great break up the right flank but powered the ball over and wide of the target. On 38 minutes De Bruyne whipped in a free kick into Morocco's box but it did not drop and hit the top netting. 2 minute of added time announced. Morocco engineered a wonderful move with a long cross-ball to Ziyech who was fouled. From the resulting free kick which Ziyech took himself, the ball went straight into the back of the net. The crowd erupted but the referee was asked by VAR to review the move which was deemed to have been offside; the refereed ruled out the goal. HT 0-0. Morocco started the second half as they ended the first, on the front foot. On 49 minutes, Ziyech had a shot on target but Courtois easily saved the shot. Straight down the other end and Eden Hazard broke down the right, electing to shoot himself but his shot was blocked; the resulting corner came to nothing. The game was opening up as both sides felt they could score. Boufal broke down the left and rounded the defenders but his cross-goal shot was wide. The game had come alight with Belgium also pressing. On 64 minutes, Mertens tested Mohamedi but the Moroccan goalkeeper saved it, as he did regarding Batshuayi's shot a minute later. Morocco then made a couple io substitutions. Morocco had a free kick close to the corner flag; substitute Sabiri, on the pitch just 5 minutes, whipped it in to the box at the near post and it fooled everyone, including the goalkeeper Courtois. 1-0 Morocco and there was no offside this time. 15 minutes of normal time left on the clock. Belgium were pressing up the field, leaving gaps at the back. From a Belgian corner, centre-back Vertongen rise above everyone else but his header was just wide. Belgium pressed and on 89 minutes Morocco stole the ball, breaking ip the left wing to win their first corner of the match. 5 minutes of added time. On 91 minutes Morocco had another break and spread the ball wide to the right, with Ziyech cutting the ball back for substitute Aboukhlal to beat the attempts of Courtois. 2-0 to Morocco; Belgium were rocked - this ending was not in their script. FT 2-0 to Morocco - the world's second-best team had been beaten and the group was wide open.
Croatia (who drew 0-0 with Morocco in their opening game, and unbeaten in 7 matches) played Canada (beaten 1-0 by Belgium) at the Khalifa International Stadium. Ranked #12 by FIFA, Croatia (beaten finalists 4 years ago in Russia) would be odds-on favourites to dispatch of #41 Canada who last qualified for the finals in 1986; they will be co-host in 4 years' time), but this is the World Cup where anything can happen. The game was only 2 minutes old when Alphonso Davies opened the scoring for Canada following a break down the right by live-wire Tajon Buchanan. There was nothing that the Croatian goalkeeper, Dominik Livakovic, could do to stop the powerful header. After around 15 minutes, Croatia started to find their rhythm; however, in doing so they were leaving gaps behind their defenders which was always going to be dangerous with Buchanan playing as well as he did. On 20 minutes, goalscorer Davies had a break down the left but his cross was easily bright under control by the retreating Croatian defence. Play was end-to-end and Croatia almost scored with a sublime move only for Livaja failing to connect enough with the through ball. On 25 minutes Croatia thought that they had scored through a similar move finished off by Kramaric, but the referee ruled it out for an offside earlier in the move. Canada get a reprieve. The action was end-to-end, constantly. Modric was starting to exert his influence in the centre of the pitch, but Canada were exploiting the flanks. Suddenly Gvardiol was through but the Canadian goalkeeper, Borjan, saved from point blank. Seconds later, Croatia attacked again, this time from the left and Kramaric slotted Perisic' reverse pass home beyond the reach of Borjan. 1-1 on 36 minutes; it no more that Croatia deserved. On 43 minutes Croatia went ahead after Livaja broke through the middle and slotted the ball home for their second. 2-1 to Croatia. 5 added minutes. HT 2-1 for Croatia. After the break, Canada made two substitutions as they knew they must score to retain any hope of qualifying for the knock-out phase. On 48 minutes, substitute Osorio almost scored for Canada but his shot was just wide of the upright. On 53 minutes Croatia could have had a third only for Borjan to pull off a fine save from Kramaric. Up the other end, Jonathan David had a fine shot tipped over the bar by Livakovic. This was a most entertaining game, especially for neutrals. With around half an hour left on the clock, both trams made more substitutions. Canada were awarded a free kick just outside the Croatian penalty box but Davies shot straight into the wall. On 80 minutes Kramaric slotted a left-footed shot into the Canada goal to make it 3-1. Canada made a double substitution and goalscorer Kramaric was also replaced. On 78 minutes, Croatia could have had a 4th but Borjan made a double save to keep the score 3-1. 6 minutes added time. On 93 minutes Canada's Hoylett had a shot on goal but it was just wide of the left post. Croatia broke down the pitch and, following a mistake by Miller, substitute Majer slitted home to make it 4-1 to Croatia. FT. Canada cannot progress.
The last matches in Group F will be played on Thursday and will see Croatia against Belgium, at the same time as Morocco against Canada. Realistically, Belgium will not progress unless they beat Croatia.
Meanwhile, today's matches will see the teams in Groups G and H in action. In Group G, Cameroon play Serbia and Brazil play Switzerland. In Group H, South Korea play Ghana and Portugal play Uruguay.