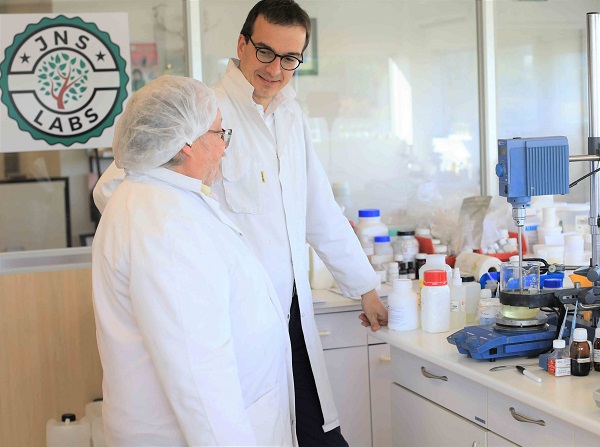 Nicolas Van Beek, CEO of JNS LABS; Credit: JNS LABS / Silicon Luxembourg
JNS LABS, a Luxembourg-based cosmetic company, has raised the €500,000 needed to access European markets.
When Nicolas Van Beek, the founder and CEO of JNS LABS, raised €250,000 in March 2020, his ambition was to open a second factory in Africa or in the Middle East. The aim was to manufacture health care and well-being products he could sell at the lowest possible prices on Central Asian local markets (Uzbekistan, Kyrgyzstan and Kazakhstan).
Launched in 2017, the Luxembourg-based company built its first plant in Uzbekistan in the same year and started producing men's cosmetics, air fresheners and professional aromatisation sets for airports and companies. When the Uzbek factory manufactured its four millionth unit three years later, Nicolas Van Beek decided to enter new markets in new continents, with the same vision to set-up local production and business activities in developing countries. Then, the pandemic happened and it urged him to review his plans. As his plant was threatened with closure, after the government introduced the lockdown, the French-born CEO decided to pivot and add a new hygiene product-line (including hand gels / sprays and masks) to its portfolio.
In an interview with Silicon Luxembourg, Nicolas Van Beek explained: "This was a huge opportunity for us: We immediately focused our R&D, certification and production activities on these products, in order to respond to urgent sanitary demand in Europe and Central Asia. For that, we used this first funding to certify the products in Europe and procure the raw materials".
Two business owners who specialise in finance and audit provided the funds. Mr Van Beek added: "Both were looking to diversify their investments and to be a part of the adventure. They were very interested to see how a Luxembourg-based entrepreneur manages to develop markets in Central Asia and Europe with sustainable development goals".
The 70-person Uzbek plant turned to manufacture the hygiene items, while still producing men's cosmetics, air fresheners and perfumes. However, to export these in Europe and create an inventory, Nicolas Van Beek needed another €250,000. The same investors provided the capital last July. Since then, JNS LABS markets its products across Belgium, France and Luxembourg and will add Germany soon.
Most products are designed and developed in Northern Paris, while the company's headquarters in Luxembourg manages other business activities, such as intellectual property, marketing, financing and product distribution.
This information has been adapted from an article on Silicon Luxembourg.