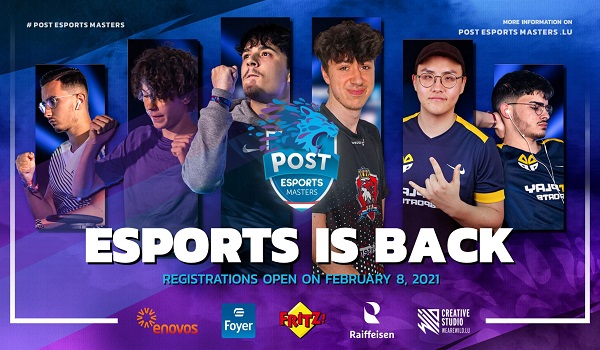 POST Luxembourg has announced that it is launching the second season of its eSports competition next month.
Building on the success of its first edition in 2020, which attracted more than 400 participants and over 15,000 viewers during the live show held over the finals weekend, POST is launching a second season with a revisited format and under a new name.
Players from Luxembourg and the Greater Region will be able to try their luck again this year. They will first have to pass the qualifying phases which will take place on 20 and 21 March 2021 on FIFA and Clash Royale and on 8 and 9 May 2021 on League of Legends. Participants will be able to register for the qualifications from Monday 8 February at 18:00 on www.postesportsmasters.lu.
Whilst the three games of season 1 remain unchanged, the format of the competition has evolved. For FIFA and Clash Royale, players will first compete in a "Championship" in April and May and then a "Cup" in June. As such, there are potentially two championship titles to be won per discipline. For League of Legends, however, the teams will meet in a giant tournament that will run over several weeks. Finally, like last year, the competitions will take place mainly online, to compensate for possible hazards due to the COVID-19-related health situation.
For the sake of consistency, POST eSports League has become POST Esports Masters, opting for a title which offers a wider field of action for the future. The success of the first season has also resulted in Avm Fritz, Enovos, Foyer, Raiffeisen and Wild Creative Studio joining the list of partners of the POST Esports Masters to support gamers in their passion. This year, the ambitions have been revised upwards since the best matches will be streamed, commented on and broadcast on the Twitch platform every weekend for the duration of the competition.
A total of € 20,000 will be up for grabs throughout the season.