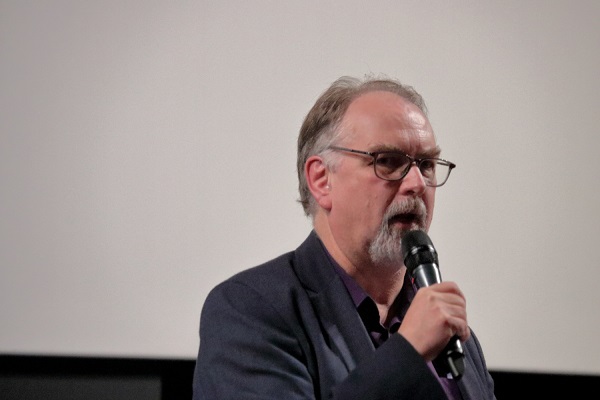 Geoff Thompson at BIFFL 2022; Credit: Ali Sahib
The British & Irish Film Festival Luxembourg (BIFFL) started off in 2010 to screen mainly independent film productions, including co-productions with Luxembourg, from Ireland, England, Scotland, Wales and Northern Ireland and across different genres; it has screened films every year since (including throughout the pandemic years) and will be celebrating its 15th anniversary next year.

Chronicle.lu talked with Geoff Thompson, festival coordinator, and asked him about this year's festival, the pandemic and going forward.

Chronicle.lu: Firstly, tell us about this year's festival: normally it is held in September?

Geoff Thompson: Yes, you are correct. Every year since 2010 we have run the festival in September, shortly after the schools have gone back and everyone is back from holiday. It has been a great way to start the new year in that respect. This year we have a couple of new things: firstly, we set up a new non-profit organisation, Festival Events Asbl, with the BIFFL its primary focus. The reasons for doing this are to show more transparency and accountability, instead of me just doing it as a hobby. Also, hopefully it will provide a framework for succession planning for when I eventually step back and get someone else to take over (but I would probably still like to be involved, in some capacity). So this is now done, it it set up officially, we had a general meeting and we have our bank account.

Then, looking back at last year - and this is really a know-on effect of the pandemic - there were a number of films we tried to screen last September but could not get the rights to screen them until now (March). We did not want to wait until September this year to screen these films, as I would then have seen their premiers around fourteen months previously... So we decided to split the festival, and have half in March (a Spring Festival) and half in September (an Autumn Festival).

Chronicle.lu: Will this allow you to screen more films?

Geoff Thompson: Absolutely! While this was not the original intention, it has probably turned out that way. We're screening a total of eleven feature films in our Spring Festival, plus a documentary. We have three Irish-language films - most years we try to screen one Gaelic-language film - two from Scotland, two from Wales and the rest from England and Ireland. Most of them are dramas and comedies, while we hope to have a focus on documentaries - normally very popular with our audiences - in our Autumn Festival where we will also look at short films. In this context, we are launching a Young Filmmarker Competition with winning entries to be screened in September. This follows on from previous editions of the festival when we held a Young Journalist Competition where we encouraged students in second and third level education to compose film reviews.

Chronicle.lu: Did you think of putting on outdoor screenings?

Geoff Thompson: During the pandemic times, yes, we certainly did. However, we also considered Luxembourg's climate and the weather we normally get here in September, so we quickly put that idea to bed. But we had also considered other innovations too. At the Galway Film Fleadh for many years - until they got a second venue when the Pálás Cinema was opened a few years ago - they operated a mobile cinema with one hundred seats. It looked just like a regular trailer when transported, but the sides opened up and the rows of seating fell into place. I thought "Why couldn't we get something like that here in Luxembourg?". I discussed it with a number of people and it could be great to bring cinemas to all corners of the Grand Duchy, but it would need a larger investment and continuous running costs. But then the Irish Film Institute came on board (during the pandemic) and had an online streaming / screening platform built for the use of Irish Film Festivals worldwide. We tried it out with a couple of "St Patrick's Screenings" in March 2021 and then decided to use it in our BIFFL 2021 festival in September 2021 which we organised as a hybrid festival: in-cinema screenings still had restrictions in place and some people were not ready to return to the cinema. Last year, for BIFFL 2022, we returned to a 100% in-cinema festival as many people were by then sick of everything being online and wanted to meet other people...

Chronicle.lu: In previous editions you have held seminars and invited Special Guests over: will you be doing that this time round?

Geoff Thompson: It was interesting that last year we were able to have a number of directors over for post-screening Q&As, and we also had the former head of Ardmore Studios over too. During the pandemic we had two years where we held of post screening Q&As either live via Skype or recorded via Zoom. Before that, we had the renowned Irish filmmaker Jim Sheridan over for a fantastic event in collaboration with the Ireland Luxembourg Chamber of Commerce (ILCC), literally a couple of days before the country shut down over the COVID-19 pandemic. We do hope to work with the British Chamber and the Irish Chamber for an event(s) in September, whether that is in the form of a seminar or a speaker at an event, we will have to wait and see. But for the Spring Festival, we have the actor Lorcan Cranitch coming over as our Special Guest to participate in post-screening Q&As. He is in no less than three films being screened, including the opening film Róise & Frank, an Irish-language comedy drama, plus the Irish-language drama Tarrac set in the world of open-water rowing and the English-language drama Lakelands set in the world of Gaelic football.

Chronicle.lu: In September, on of the most popular evenings was the "Solidarity with Refugees" event: are you planning anything similar this time round?

Geoff Thompson: Yes, that was an incredible event. First we screened the UNHCR documentary - actually it was four mini-documentaries "sewn" together - in whoch four refuges to Ireland from Afghanistan, Palestine, Guinea/Senegal and Yemen cooked dishes according to their traditional recipes using local (Irish) ingredients. And we also had Ali Sahib's short documentary From Iraq to Ukraine: Every Picture Tells a Story which saw him travel to the Poland-Ukraine border, and into Ukraine, last March, and showing the similarities with his own flight from Baghdad in 2015. For the BIFFL 2023 Spring Festival we will be having the first screening (you could call it a world premiere, I suppose), of his new documentary film Solidarity 365 which examines the issue of solidarity in the lead-up to the recent Solidarity March on 25 February 2023, marking 365 days since Ukraine's resistance started following the Russian invasion.

Chronicle.lu: So how can people find out more?

Geoff Thompson: The Spring Festival is from 19-24 March at Ciné Utopia and the Autumn Festival is from 18-22 September at the Cinémathéque. All the information is on the website https://www.bifilmseason.lu with tickets available via https://www.luxembourg-ticket.lu and https://www.kinepolis.lu (for two of the screenings, in collaboration with Ciné Utopia). Tickets are €10/person (€7 for students for the Wednesday afternoon screening of Oscar-nominated An Cailín Ciúin (The Quiet Girl).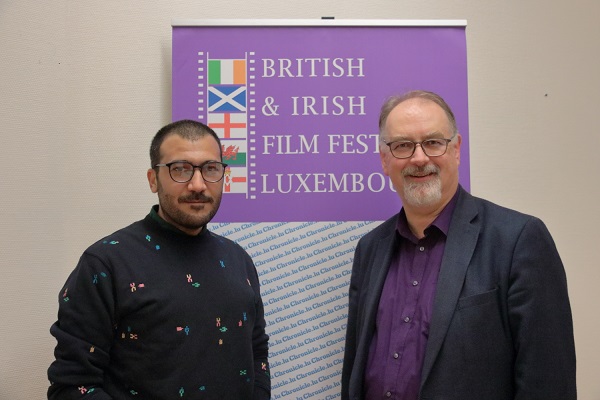 (L-R) Ali Sahib and Geoff Thompson at BIFFL 2022's Solidarity with Refugees event