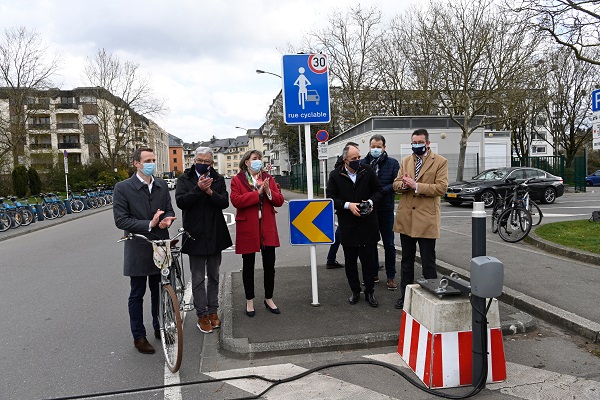 Cycle Streets Inaugurated; Credit: Copyright VDL Photothèque, Charles Soubry
On Friday 26 March 2021, Lydie Polfer, mayor, and Patrick Goldschmidt, alderman for mobility, presented the "cycle streets" pilot project which promotes soft mobility.
Patrick Goldschmidt explained "Cycle streets are a link in the city's cycling concept. The objectives of the pilot project are multiple. On the one hand, it is about optimising routes heavily frequented by cyclists by offering them more comfort in certain streets, and therefore strengthening the cycling network. On the other hand, the establishment of cycle streets allows a better sharing of street space between cyclists and motorised traffic and helps to make cycling traffic safer in urban areas."
According to the Highway Code, in cycle streets:
- cyclists have priority over motorised traffic: overtaking is not allowed and motorists are obliged to stop if necessary
- cyclists can use the full width of the traffic lane
- the maximum authorised speed is 30 km/h.
- all other rules of the Highway Code still apply.
Rue de Bragance, rue Laurent Menager, rue de Pulvermühl
In a first phase, three strategic locations, making it possible to connect the main axes of cyclist circulation, have been determined to realise the pilot project: rue de Bragance, rue Laurent Menager (section between the Gaston Diderich stadium and the "Eecherpaart" locality) as well as rue de Pulvermühl and the "Ierzewee". Specific signs and markings on the ground indicate the start and end of each "cycle street" zone.
After a test phase running from the end of March to the end of September 2021, the Ville de Luxembourg will evaluate the "cycle streets" pilot project and will decide on a possible extension of the project to other streets of the capital.
New "cycle routes" map
In the coming weeks, the new "cycle routes" map published by the Ville de Luxembourg will be available on velo.vdl.lu as well as at the Hôtel de Ville, at the Bierger-Center, at the Rocade de Bonnevoie and at the Service Circulation.
This map shows the approximately 165km of the capital's territory cycling network (cycle lanes, cycle streets, motorised mixed traffic, cycle contraflow, contraflow cycle lanes, national network cycle routes, planned cycle routes) as well as bicycle infrastructure such as park + bike, bicycle spaces and shelters, vel'OH! stations and even air pumps.