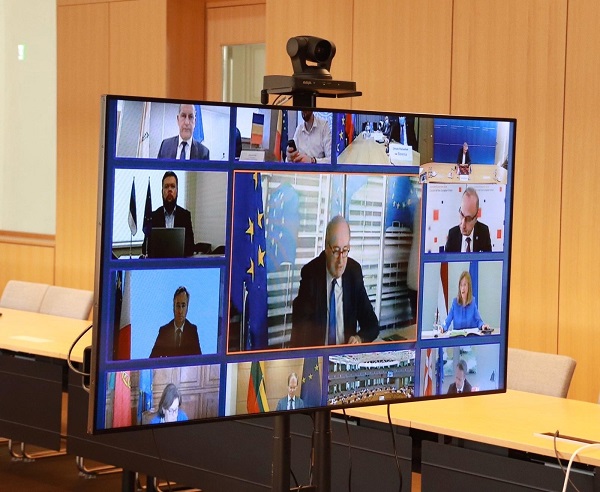 Jean Asselborn in videoconference; Credit: MAEE
Luxembourg's Minister of Foreign and European Affairs, Jean Asselborn, today participated in a videoconference bringing together the European Union's ministers responsible for trade.
This meeting was devoted to the impact of the Covid-19 pandemic on trade relations and global value chains, following on from the statement by the members of the European Council on March 26.
The ministers analysed the international response to the Covid-19 pandemic to see how well global value chains and international distribution networks have weathered the crisis. In this regard, they had an initial exchange of views on the measures to be put in place to strengthen the resilience of these chains and networks.
During his speech, Minister Asselborn recalled Luxembourg's commitment to the principle of solidarity and to a rules-based multilateral trading system.
Minister Asselborn spoke in favour of diversifying supply chains which will help make them more sustainable and stimulate economic recovery. "We should avoid any further disruption and favour more resilient value chains outside, but also inside the internal market," the minister noted in this context.
The head of Luxembourg diplomacy has also declared himself in favour of strengthening the European industrial base. He notably underlined that "Europe must safeguard its steel industry" and recalled that "the current crisis has considerably reduced European and world demand for steel and therefore a new opening of quotas is not appropriate under the current circumstances."
In conclusion, Jean Asselborn expressed his hope that the EU could intensify its work in the field of sustainable trade, in particular with regard to due diligence and responsible business conduct, while stressing that "these mechanisms will make it possible to increase the transparency of value chains and therefore make them more resilient. It is now more than ever evident that sustainable development must be part of the solution and therefore we should send a strong message in this regard to our trading partners."