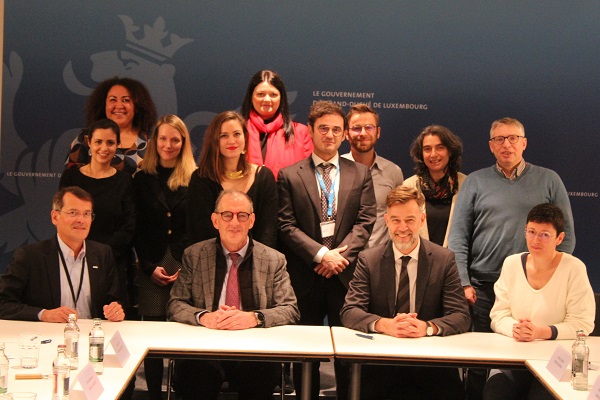 Credit: MAEE
On Thursday 2 February 2023, Luxembourg's Minister for Development Cooperation and Humanitarian Affairs, Franz Fayot, signed the renewal of development framework agreements with three non-governmental development organisations (NGDOs), namely the International Aid of the Luxembourg Red Cross, Handicap International Luxembourg and Frères des Hommes.
The NGDOs were represented by Michel Simonis, Director General of the International Aid of the Luxembourg Red Cross, Pierre Delandmeter, President of Handicap International Luxembourg, and Mónica Fernandes, President of Frères des Hommes.
The three framework agreements signed will benefit from a total contribution from Luxembourg's Ministry of Foreign and European Affairs of almost €28 million between 2023 and 2027.
This is the third such agreement signed with the International Aid of the Luxembourg Red Cross, whose interventions, implemented exclusively in the Sahel region, aim to improve the living environment of communities by targeting in particular the sectors of housing, water, hygiene and sanitation, land use planning and the strengthening of early warning systems.
Handicap International Luxembourg has signed its sixth framework development agreement with the ministry. This is a continuation of the previous one, and aims to guarantee access to rehabilitation, education and economic inclusion services for people with disabilities and vulnerable populations, in particular women and girls.
In the case of Frères des Hommes, this is the seventh such agreement, which aims to increase the resilience of targeted communities by promoting agroecology, sovereignty and food and nutritional security, as well as support for grassroots community organisations and civil society.
Geographically, the activities of the development framework agreements are spread across nineteen countries on three continents: Burkina Faso, Niger, Mali, Senegal, Rwanda, Chad, Ethiopia, the Democratic Republic of the Congo, Madagascar, Laos, Bangladesh, Cambodia, Myanmar, Nepal, Afghanistan, Occupied Palestinian Territories, Haiti, Nicaragua and Guatemala. Activities also include regional projects in South America and Sub-Saharan Africa.
During the signing ceremony, Minister Fayot thanked the teams of the NGDOs and their local partners for their good work over the past years and reaffirmed that the signing of the three development framework agreements will complete the actions of Luxembourg's development cooperation programme at the bilateral and multilateral levels.