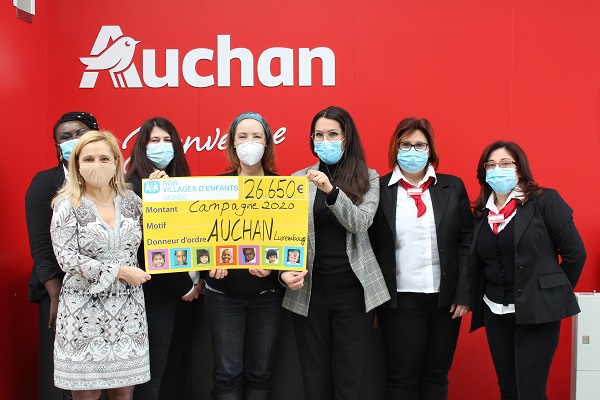 Naïma Baz, Customer Service Manager, and several Auchan Kirchberg cashiers hand the cheque to Sophie Glesener and Anne Schweizer of SOS Villages d'Enfants Monde; Credit: SOSVEM
Following its 2020 solidarity action, Auchan Retail Luxembourg has just handed over a cheque for €26,650 to the Luxembourgish non-profit association SOS Villages d'Enfants Monde.
While 2020 was a difficult year and the COVID-19-related health restrictions weighed on the organisation of solidarity events, SOS Villages d'Enfants Monde and its long-standing partner Auchan Retail Luxembourg successfully organised their traditional back-to-school action. Placed under the theme of education, the action took place from 1 to 19 September 2020 in the three Auchan hypermarkets in Luxembourg (Kirchberg, Differdange and Cloche d'Or) and in their respective shopping centres. Many customers responded to this call for solidarity with very vulnerable children in the Central African Republic.
In the presence of some of the cashiers, Naïma Baz, Customer Service Manager of the Auchan Kirchberg hypermarket, recently met with Sophie Glesener, Director of SOS Villages d'Enfants Monde, and Anne Schweizer, Partnership Manager, to give them a cheque for €26,650 - the result of this 2020 action. This sum will be allocated to the charity's integrated education and protection project in the Central African Republic, which began in October 2020. The project links education and protection while preventing the risks associated with the COVID-19 pandemic and responding to the new humanitarian needs of recently displaced children. Along with fundraising, the Auchan action is (as every year since 2008) an opportunity to raise awareness of this fundamental and important vector of peace and social cohesion, which is education.
Sophie Glesener commented: "We would like to thank Auchan Luxembourg from the bottom of our hearts and all those who, in such a difficult period, have contributed to the success of this vital action for countless children who live in emergency situations and are deprived of their rights and normal schooling. In CAR, our major project, implemented with our local partner, should enable more than a thousand students from a public school to have access to quality education in a secure, protective and inclusive environment". The SOS Villages d'Enfants Monde spoke of the progress of this project as well as the difficulties on the ground, in particular the slowdown in activities due to the pandemic and the recent escalation of violence.