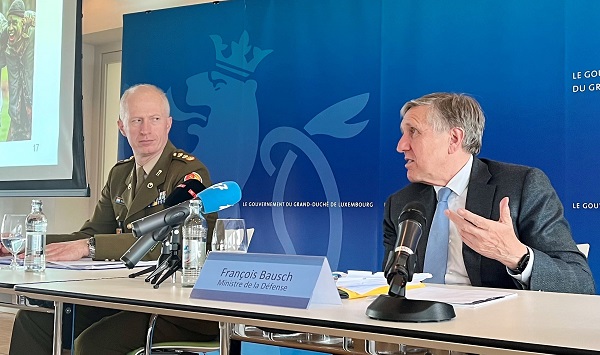 (L-R) Lieutenant colonel Tom Schons, Capability Director and Head of Strategic Plans Department (Luxembourg Army); François Bausch, Luxembourg's Deputy Prime Minister, Minister of Defence; Credit: MAEE
Luxembourg's Deputy Prime Minister and Minister of Defence, François Bausch, recently presented the Luxembourg Defence Guidelines 2035.
These new guidelines, approved by the Luxembourg Government, describe the context, framework and orientations of Luxembourg's defence policy.
Luxembourg's Directorate of Defence noted that the updated guidelines have been produced against the backdrop of a security context "deeply disrupted" by Russia's war of aggression against Ukraine. It added that the break-up of the security order in Europe (and beyond) and its implications required a careful reassessment of Luxembourg's defence policy. The directorate also highlighted the "persistent asymmetrical threat of terrorism" and growing competition between the great powers, as well as the impact of emerging and disruptive technologies.
"In this deeply disrupted geopolitical context, the Luxembourg Defence must be able to act and contribute to the common effort in terms of deterrence and collective defence as well as crisis prevention and management. These new guidelines will be the benchmark for Luxembourg's defence policy until the middle of the next decade. They communicate transparently about our interests, objectives and means envisaged," summarised Minister Bausch.
The guidelines are available in French and in English and address various areas, ranging from international developments and their implications for transatlantic security and the goals and structural principles of Luxembourg's defence policy to priority capability development areas and challenges.
As detailed in the document itself, the Luxembourg Defence Guidelines 2035 are based on a series of main objectives and guidelines, including:
strengthening the European defence pillar within NATO;
strengthening the military capabilities of the EU;
fulfilling commitments to both NATO Defence Planning Process and EU Permanent Structured Cooperation (PESCO);
increasing the defence effort to 1% of GDP by 2028 in line with the Luxembourg Government commitment;
continued military support for Ukraine to exercise its right to self-defence against Russian aggression;
transforming the Luxembourg Defence according to the capability requirements emanating directly from the capability shortfalls identified by NATO and the EU, whilst remembering national requirements;
further developing space and cyber skills and capabilities;
developing the air component, in close cooperation with Belgium, the Netherlands and other members of the European Air Transport Command (EATC);
strengthening the development of research and innovation activities;
creating and identifying investment opportunities for national and European industry;
developing existing partnerships within NATO, the EU, Benelux and the Framework Nations Concept (FNC);
contributing to increasing the country's resilience by promoting the development of a whole-of-government approach.
The new guidelines can be viewed in full (in English) here.