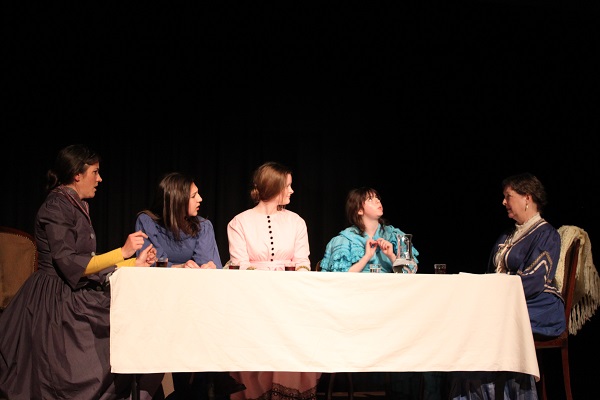 Credit: Otilia Dragan/Chronicle.lu
On the evening of Thursday 27 April 2023, Chronicle.lu had the opportunity to sit in on the opening night performance of the BGT English Theatre Company's latest production, I Can't Tell You – But You Feel It, at the Lycée Michel Rodange in the theatre hall.
The actor-playwright Eloïse Heger-Hedløy took inspiration from the life and poetry of nineteenth century American poet Emily Dickinson. The play playfully, sometimes even humorously, explores questions of what it means to a be a poet and a woman living in the nineteenth century, but it does so with a large dose of modern sentiment, and with some deep dives into abysmal emotion.
The stage, split in half, symbolised Emily's small world- on the one hand, her family and the outside world and on the other, her bedroom containing her poetry and rich imaginary life.

Emily is portrayed as able to peek beyond the mundanity of her immediate life or feels the intrusion of parts of her which portentously come out of her closet. These imaginary figures were a noteworthy choice, reminiscent of new therapy forms such as Internal Family Systems (IFS). This form of psychotherapy considers the mind to be naturally made up of several sub-personalities within each individual's mental system. Depicting her psyche like this, the play does not seem to imply that she has a mental disorder, but that she has a rich inner world. In fact, a mock-therapist makes an appearance (one of her inner characters plays her), in a nod to modern society. Certain imaginary characters take turns being cruel and kind, craving her attention, trying to push her to succeed or attempting to appease her and smooth out her inner turmoil.
The quest for beauty in nature, but also Emily's hyperfocus on words and poetry came through clearly in the play, addressing the double-edged reality of what it means to be so imaginative and sensitive.

The main character is energetically and artfully played by Kalina Koeva, depicted as a very impulsive, emotional character with a strong sense of self. Her real self, however, only seems to come through when she can express it in poems: "My poems are my children," she tells her mother when the latter tells her that, some day, she will grow out of this phase and have a family, children of her own.
Emily's poetry beautified the story, in an elegantly woven tapestry of poems to illustrate her tumultuous inner life. But the play is also a love letter to poetry, describing how this art can be enough to fill someone's life. "You are my poems," she tells Sue, her close, almost-romantic friend and future sister-in-law, trying to describe how much she loves her.
The play explores the question of why a creative mind such as Emily's would shut herself up in a small world of her own making, choosing to opt out of reality so much of the time.

The play brilliantly depicts the light and the darker aspects of Emily's psyche – how she battles her own self-doubt, sometimes until the ominous voices turn positive. Chaos and her inner force come through well and give an explanation for her solitary and confined life: "My words are everything," she muses, battling desires for fame and immortality.
Spectators are taken on a journey that sometimes breaks the fourth wall, and they are briefly addressed in the latter half of the play.

For those who missed the opening night, additional performances of I Can't Tell You – But You Feel It are scheduled to take place on Friday 28 and Saturday 29 April at 19:30. Tickets cost €20 (€10 for students) and reservations can be made via email: bgt.lu.tickets@gmail.com.