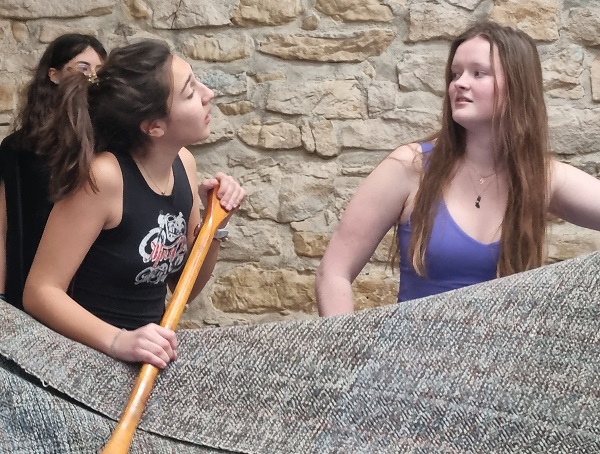 Kalina Koeva and Eloïse Heger-Hedløy; Credit: BGT
The BGT English Theatre Company will put on its next show I Can't Tell You - But You Feel It at the theatre room in Lycée Michel Rodange Luxembourg (LMRL) on Thursday 27, Friday 28 and Saturday 29 April 2023 at 19:30.
Inspired by the life and nearly 1,800 poems of Emily Dickinson, this play, moving from scenes of comedy to moments of dark threat, explores questions such as: What makes a poet? Where does poetry come from?
Chronicle.lu recently had the opportunity to sit down with actress and writer Eloïse Heger-Hedløy and director and BGT co-founder Tony Kingston to learn more about this new play, which fits within the BGT framework of putting local women and young talents centre stage.
Nineteen-year-old Eloïse, who wrote this play (her first), has been involved in theatre for the past ten years and acted in two other BGT productions: Charles Dickens - the Best of Men, the Worst of Men in 2020 and The Coronavirus Chronicles in 2021. In addition to writing the play script for I Can't Tell You - But You Feel It, Eloïse acts in the play, alongside seven other cast members. She recently graduated from the International School of Luxembourg (ISL).
When asked about the inspiration behind her play, Eloïse spoke of how Emily Dickinson's poetry "captures this other world that is very relatable" but also "captures this beautiful other experience", a feeling that she wanted to "transfer [...] into the play". She noted that her focus was really on the poetry, the "artistry" and the "process" rather than theories about the 19th-century American poet's "mysterious" life.
Eloïse also noted that her "first point of contact" with Emily Dickinson had been the American TV series Dickinson. "It inspired, if not guided, a lot of choices that I made," she said, adding that she had made different choices but this, together with Emily Dickinson's poetry anthology, served as a source of inspiration.
In terms of her own artistic process, Eloïse noted that planning the production took longer than the writing itself. She came up with the idea in late 2021/early 2022 and tried to develop it as much as possible before reaching out to Tony. In summer 2022, they developed the concept further through several workshops, which brought together people with an interest in theatre, some of whom had been previously involved in BGT productions. Around that same period, Eloïse embarked on a month-long "intense writing" journey. She incorporated the feedback and casting and rehearsals began in autumn 2022.
For his part, Tony helped develop the ideas and script but also explored the "theatrical potential" and helped with casting. Several of the workshop participants went on to be cast in the play, as "they already had a grounding in what was happening", he noted. They also held open auditions, which resulted, for example, in Kalina Koeva being cast in the role of Emily.
In terms of what this experience has taught and offered Eloïse, she reflected on the opportunity to be on the writing side of theatre, in addition to acting. "Now I've written a script and I know the reason why I made certain choices," she explained. "Having that grounding of knowledge was interesting for me, because I did as much research as I could because I wanted to make it accurate but still fantastical." She referred to how the play moves between and balances the outside, "real" 19th-century world and Emily's inner, more fantastical world. Eloïse added that her experience in acting and now writing had helped her better explain certain artistic choices, particularly regarding the contextualisation of "poetry used as dialogue", to her castmates. She recalled that the play had been "written for the poems" and not the other way around, and that posed its own set of challenges.
Concerning the venue, Tony expressed his gratitude to LMRL for offering its newly renovated theatre space to BGT free of charge, in recognition of his work in the realm of English-language school theatre over the years. He noted that securing one of the bigger theatre venues, particularly for more than one night, proved challenging due to the need to often book more than one year in advance.
Returning to why BGT is trying to showcase the talents of local young people (and women), in particular, Tony said: "It's really quite difficult for people who are either really young or really old to get work in theatre [...] particularly somewhere like Luxembourg where it's quite a tight community that's not that easy to break in to." He noted that about half of the I Can't Tell You - But You Feel It cast were either just out of school or in their last years at school. "It seemed appropriate that a play about a young person would link into a school theatre environment."
The play, directed by Tony Kingston, stars Kalina Koeva, Eloïse Heger-Hedløy, Kim Birel, Bjørn Clasen, Maya Fish, June Lowery, Ana Maia and Lindsay Wegleitner.
Tickets cost €20 (€10 for students) and are available via email: bgt.lu.tickets@gmail.com.