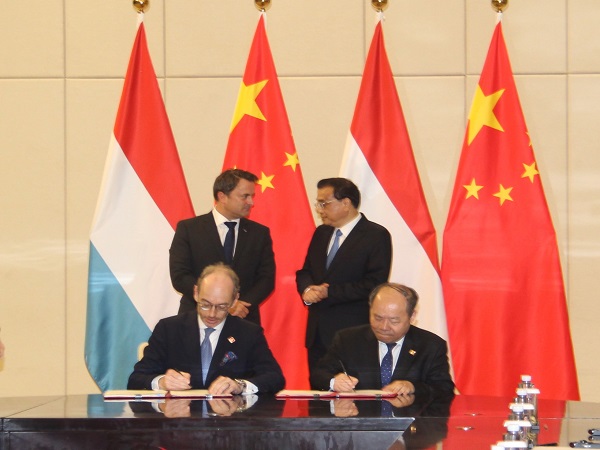 L-R: (in front) Marc Hübsch, Luxembourg ambassador to China; Ning Jizhe, Vice Chairman of the National Development and Reform Commission of China; (behind) Luxembourg Prime Minister Xavier Bettel; Li Keqiang, Prime Minister of China; Credit: ME
On 27 March 2019, the first day of his visit to China, Luxembourg Prime Minister Xavier Bettel witnessed the signing of various bilateral agreements.
Upon his arrival in China, Luxembourg Prime Minister and Minister of State Xavier Bettel met with his Chinese counterpart, Li Keqiang, for an interview. Discussions focused on bilateral relations as well as major international and current issues. Indeed, these formed part of Xavier Bettel's two-day visit during which time he shall also attend the Boao Forum for Asia.
Xavier Bettel commented: "China and Luxembourg are partners in many areas and have excellent relations. The presence of a Luxembourg delegation at the Boao Forum for Asia testifies to the quality of our links and the purpose of this participation in the Forum is to further deepen them, particularly in the economic, financial and logistics fields."
Following the interview, the two heads of government witnessed the signing of several agreements. The first agreement was a bilateral Memorandum of Understanding on cooperation under the Belt and Road initiative. "The signing of this agreement marks a new stage in the development of Sino-Luxembourg relations and our cooperation in economic and commercial, academic and cultural terms as well as in research and development," said Xavier Bettel at the signing ceremony.
The signing of an additional four agreements between the Luxembourg Stock Exchange and the Shanghai Stock Exchange, the Shenzhen Stock Exchange, the Shanghai Clearing House and the Bank of China, respectively, aimed at deepening cooperation between the Luxembourg Stock Exchange and the other signatories.
On the second day of his visit, on 28 March 2019, the Prime Minister will speak at the opening ceremony of the annual conference of the Boao Forum for Asia, dedicated this year to the theme "Shared Future, Concerted Action, Common Development". On this occasion, he will also meet the Korean Prime Minister Lee Nak-yon, as well as Laos Prime Minister Thongloun Sisoulith, and will have interviews with several economic decision-makers.