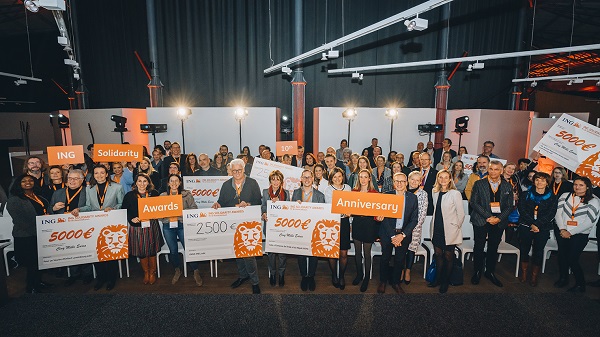 SPONSORED CONTENT
10 years, 10 editions and more than €660,000 given to charities to help make a better world.
As part of its Corporate Social Responsibility policy, ING Luxembourg founded the "ING Solidarity Awards"; its last edition took place at the Rotondes for its 10th anniversary.
The aim of this unique competition is to reward and support the Luxembourg non-profit sector through a selection made by a jury. In 10 years, 98 Luxembourgish non-profit associations have been rewarded - and over 600 applications reviewed!
Over time the categories awarded have evolved. This year there were two categories, financial inclusion, i.e. any project to improve the financial status of individuals, for example through education or social and economic integration, and protection of the environment, i.e. any project related to the sustainability of our economy and environment.
A total of 46 projects were submitted this year to an independent jury of 7 people (of which 3 were ING employees). They selected 4 winners for the amount of €5,000 each and 3 winners for the amount of €2,500 each. Then the public attending the prize ceremony had to choose between these 3 associations, who pitched their project on stage, and the winner received an additional €2,500. In total, 7 organisations were presented with awards for this edition.
This year's ING Solidarity Awards rewarded organisations such as 3AL Autism Awareness Association Luxembourg asbl, which prepares people with autism for the work environment, supports them in finding suitable work, and also offers training on autism and on the basic principles of Applied Behaviour Analysis (ABA) for interested employers.
Another example is the organisation For a Child's Smile Luxembourg asbl, which has launched a vocational training project in agro-ecology. The aim is to train 16 young Cambodians in one year in agronomy techniques (soil study, seed management), animal husbandry and production processing. After the first class last year, all of them have found a job related to their training.
Congratulations to all the participants and organisations throughout the last 10 years of the ING Solidarity Awards.
For more information, see https://www.ing.lu/webing/content/siteing/en/About_us/press/pages/2022/ing-news---ing-solidarity-awards-2022---10th-anniversary.html