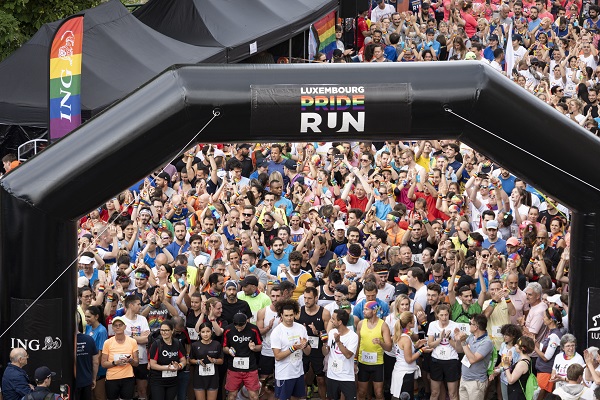 SPONSORED CONTENT
Last month was global Pride Month, when the world celebrates LGBTIQ+ communities and being proud of who you are without fear of judgement, while raising awareness that there is still work to be done in rights and inclusion.
For example, at ING, fairness and inclusion are at the heart of everything we do and all that we stand for. We believe that our focus on inclusion helps us attract, retain and leverage the best people. When people feel included, they are engaged in their roles and emotionally invested in the company. When we treat each other with support and mutual respect, and work inclusively together across our differences, the possibilities of what we can achieve are truly limitless.
Through this state of mind, we promote diversity at ING not just because it is the right thing to do. We promote diversity because it is essential for delivering on our strategy.
And what better way to put this into practice than to partner with the City of Luxembourg for an event that promotes diversity and inclusion?
Since January, ING and the City of Luxembourg worked together to create an event that gathers everyone and supports a good cause. Here came the idea of the Luxembourg Pride Run: a sporting event in the city at the same time as the Luxembourg Pride Week in Esch-sur-Alzette.
The goal was to bring everyone together: companies, associations, friends, families and anyone else willing to show their support for the LGBTIQ+ community and help create a more inclusive and equal world. Everyone was welcome: you could walk or run, choosing to participate in a 5 km or 10 km race.
The cherry on the cake is that all the registration fees and donations contributed directly to the new project of Rosa Lëtzebuerg and the CENTRE LGBTIQ+ Cigale, two local LGBTIQ+ charities, to raise awareness in the sporting world of the integration of LGBTIQ+ people through workshops, training and information material for sports clubs and coaches.
For this first edition, we had a full house with 1,500 participants and we raised more than €23,000 for the project.
We can already say that the Luxembourg Pride Run is ready to be an annual event that will stay in the event calendar of Luxembourg City.
So do not miss out this opportunity, either as a runner, a walker or a supporter, we hope to see you next year!
Meanwhile, follow us on social media: @luxembourgpriderun