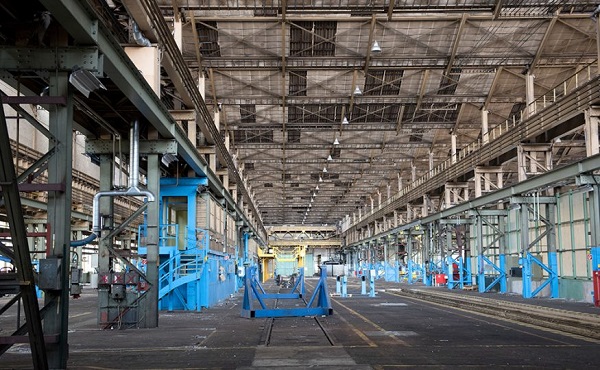 To create space for the expansion of the railway infrastructure at Luxembourg-gare, the old CFL workshop, the "Atelier Bonnevoie", is being demolished.
A fifth and sixth platform will then help the station to cope better with the high volume of rail traffic, including from the south, at the station, which is the central junction of Luxembourg's railway network. However, before the fifth and sixth platforms are taken into operation, there are numerous challenges to be overcome. These include the demolition of the "Atelier Bonnevoie" while services are still running, so that customers are affected as little as possible by the large-scale construction work.
While the old "Atelier Bonnevoie" had a certain nostalgic charm, one cannot help but immediately notice the modern and innovative character of the new Atelier Central. It has one large and distinct advantage: for the first time since the company was founded, it is now possible to maintain the entire spectrum of CFL rolling stock under one roof. Approximately 15,000 m2 of space and 1,250 track metres (indoor and outdoor) are available for this. In the new premises, maintenance and repairs are carried out on both EMUs, i.e. rail cars without locomotives and with own drives, electric locomotives, and the modern, high horsepower 4000 series, double-decker passenger cars, as well as railway vehicles with diesel electric motors, e.g. the Robel construction site engines.
The staff of the new Atelier Central also benefit from a modern working environment that leaves little to be desired, and which has been tailored to the needs of the different teams. The new workshop scores with comfortable light conditions, both by day and by night, a good indoor climate as well as modern workplace installations, e.g. work platforms and lifting devices. Thus, the new working pits offer not only plenty of space, but are also bright and heated.
Moreover, an uncompromising respect for occupational safety also played an important role in the design of the workspaces. Access to the rooves of the electric-powered locomotives and railcars, for example, is ensured using an extremely well-designed safety system that only allows the overhead lines in the halls to be switched on when all staff have been withdrawn from the danger zone.
Among those working on the maintenance and repair of the rolling stock in the Atelier Central are mechanics, electrical engineers, as well as refrigeration and electronics specialists. Also on site is a joinery, saddlery and infirmary. Around 280 employees work in the "Centre de Remisage et de Maintenance", which includes the new Atelier Central, the "Centre de Réparation rapide", and the washing plant, where they look after around 178 different vehicles.​