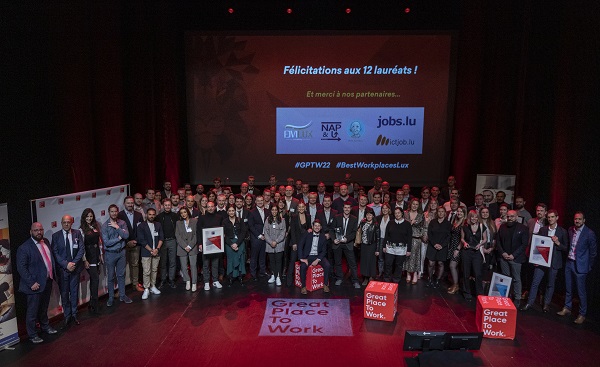 Credit: Great Place to Work®
Great Place to Work® has unveiled the names of the top twelve companies where it is good to work in Luxembourg, as chosen for the 2022 edition of the Best Workplaces® awards.
Each year, the Great Place to Work® Institute rewards the best organisations where it is good to work across nearly 100 countries. In 2022, the institute selected twelve companies in Luxembourg which have succeeded in offering a pleasant working environment for all.
After a phygital edition in 2021, this 12th edition of the Great Place to Work® Luxembourg 2022 Conference and Ceremony was held once again in person at Neumünster Abbey in Luxembourg-Grund, on Thursday 31 March 2022, in the presence of nearly 200 participants.
The event began with a keynote speech by Laurent Peusch, Head of the employers department at ADEM, Luxembourg's employment agency. This was followed by a conference on the theme "Artificial intelligence at the service of the HR function", a subject to which Yannick Bruck, Chief Technology Officer at the Luxembourg Stock Exchange (LuxSE), brought his vision and shared his expertise. This theme was further explored during a round table featuring Mr Bruck, as well as Kristel Wiliquet, Human Resources Director at the Luxembourg Institute of Science and Technology (LIST), and Nicolas Speeckaert, co-founder of the company Skeeled.
The Best Workplaces™ reveal then shed light on the best companies for which to work in 2022. Candidates for this list of the best employers in the country were all companies that conducted a satisfaction survey of all their employees between April 2021 and January 2022 and had submitted an audit file on corporate culture.
Winners
Small enterprises (10-49 employees):
Salonkee
nexten.io
Cap4 Lab
Medium-sized enterprises (50-99 employees):
AKABI
Pictet Technologies
Wavestone
Large enterprises (100+ employees):
InTech
CTG IT Solutions
COPLANING
Devoteam
ATOZ
Value Partners