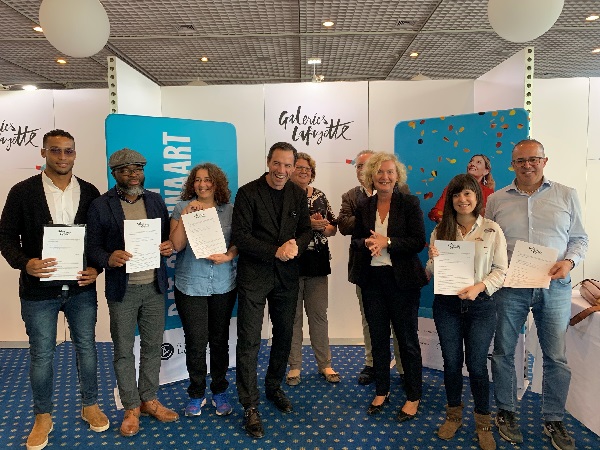 Pierre Celerier, director of Galeries Lafayette for Luxembourg and Isabelle Schlesser, director of ADEM, surrounded by the first recruits of Royal Hamilius; Credit: ADEM
Royal Hamilius yesterday signed its first employment contracts during the ADEM Jobday held at the Parc Hotel Alvisse in Dommeldange-Luxembourg.
On Wednesday 18 September 2019, Luxembourg's employment agency ADEM and the EURES Grande Région network, in partnership with the Codic Group, organised a Jobday for the benefit of the new Royal Hamilius centre at the Parc Hotel Alvisse.
In total, the event attracted over 2,000 people looking for a job or a new professional challenge. Among the recruiters' stands were Galeries Lafayette, FNAC, Delhaize and the Manko and Victorine restaurants, as well as various other brands setting up in Royal Hamilius, which will open at the end of 2019.
Over 250 positions were available. The profiles sought ranged from sales consultants or managers to sales assistants, from logistics to catering employees. By early afternoon, Galeries Lafayette had already recruited their top ten candidates. Indeed, nine Luxembourg residents registered with ADEM and a Belgian resident signed contracts as a seller or storekeeper on site.
The companies confirmed at the end of day that: "Many more hires will follow in the coming weeks".