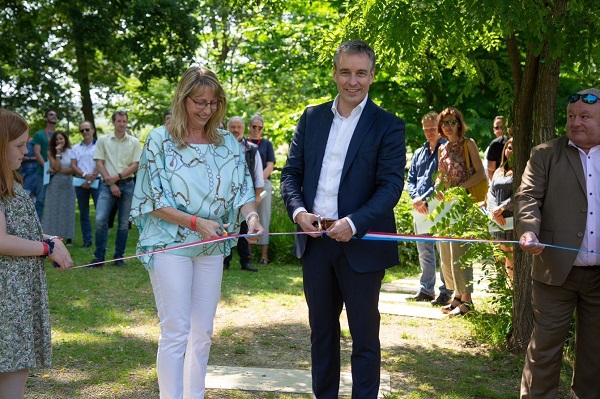 (L-R): Diane Dhur, Director; Minister Claude Meisch; Credit: CDSE
On Monday 19 July 2021, Luxembourg's Minister of National Education, Children and Youth, Claude Meisch, opened the Achtsamkeitspfad mindfulness course, designed and created by the Center for Socio-Emotional Development (CDSE): it is the first of its kind in the Grand Duchy.
Mindfulness, a practice that strengthens mental balance
The CDSE is the centre of competence in specialised psycho-pedagogy which takes care of and supports children and young people with specific needs in the socio-emotional field. It was in accomplishing its mission that its team found that, through the daily practice of mindfulness, students become more empathetic, better able to perceive, interpret and control their emotions. They regain a certain socio-emotional balance, develop more harmonious interactions with their classmates, and concentrate more easily.
Mindfulness or mindfulness meditation consists of training one's mind to focus on the present moment, by focusing on its sensations, its breathing, a point of its body, a movement, its emotions, its thoughts, without making any value judgment.
After COVID-19, a journey towards greater well-being
This simple practice is gaining more and more followers and is proving its worth in schools.
By creating a course of mindfulness, the CDSE wanted to facilitate access to the benefits of this approach and allow as many people as possible to benefit from it.
In the eyes of Minister Claude Meisch, "this path embodies one of the main missions of the CDSE: raising awareness of emotional skills and well-being. However, the well-being of children and young people has been well tested by the months of health crisis that we have just passed. Some suffered from isolation or had to deal with feelings of insecurity over a long period of time. This course in this enchanting place comes at the right time! I can only congratulate the CDSE on this initiative and thank the municipality of Schuttrange for its support".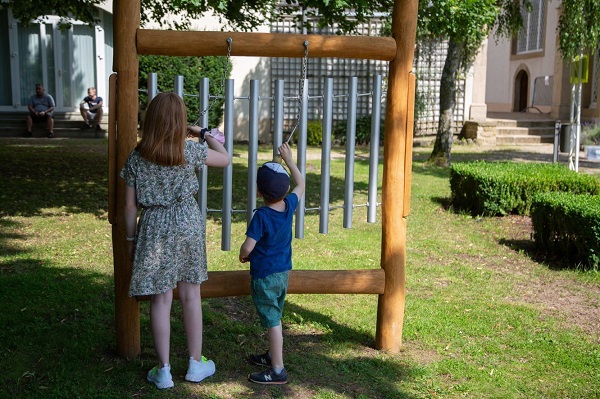 A path accessible to all
Anyone can go, alone, with their family or in a group, to the park of the Chateau de Munsbach where the CDSE is located and discover the trail at their own pace and in their own way.
The course unfolds in the open air, on nine stations, each one inviting you to experience a moment of mindfulness.
Information panels with QR codes leading to digital audio files, all in four languages ​​(Luxembourgish, French, German, English), guide visitors from one stage to the next, for a stroll that can extend over 60 to 90 minutes.
Inclusion is at the heart of the vocation of competence centres. Visually impaired people can find their way along their journey independently thanks to an adapted audio guide (for the moment in Luxembourgish only). The course is also accessible to people with reduced mobility.