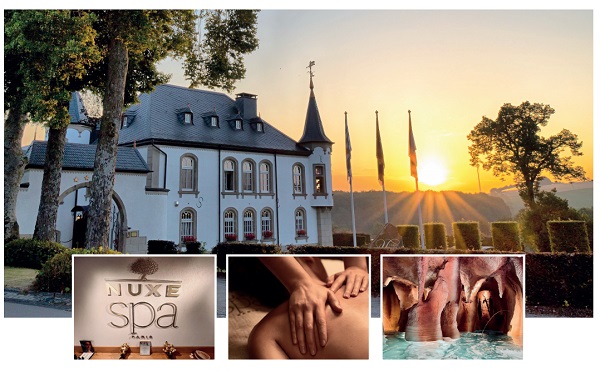 Credit: Château d'Urspelt
Château d'Urspelt has announced the recent opening of Luxembourg's first NUXE Spa, in partnership with the Parisian cosmetics brand NUXE®.
Opened on Saturday 19 December 2020, the NUX Spa offers a new immersive experience exclusively in Luxembourg. In addition to areas dedicated to treatments and care from NUXE, the spa offers facilities dedicated to well-being and relaxation.
Spread over more than 800 square metres, the spa also offers the traditional saunas, hammams and other bubble baths, as well as some installed facilities, such as a floatation pool with sensory insulation.
2020 also saw the construction of Château d'Urspelt's cave-themed indoor swimming pool, designed with the post-COVID-19 tourist industry in mind (e.g. facilities for private use).
The new NUXE Spa is open to guests at Château d'Urspelt, as well as non-guests (upon reservation), every day from 08:00 to 20:00. For further information and reservations, visit www.chateau-urspelt.lu or contact Château d'Urspelt via tel.: 269-05610 or email: info@chateau-urspelt.lu.