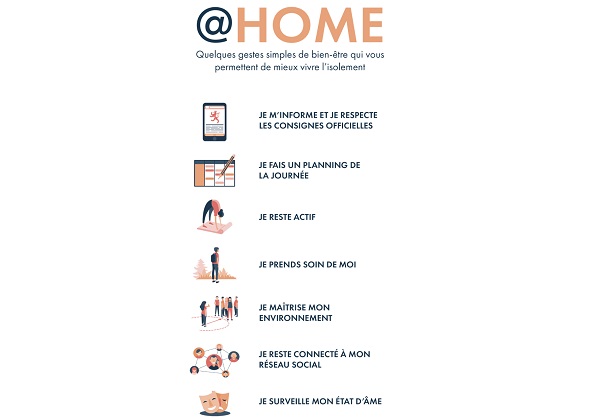 Luxembourg's Ministry of National Education, Children and Youth has announced the launch of @HOME, an awareness campaign aimed at promoting wellbeing during isolation.
For the past weeks, Luxembourg, like the rest of the world, has been experiencing an unprecedented situation due to the COVID-19 (coronavirus) crisis. In order to limit the spread of the virus, the government asked the population to confine themselves to their homes.
This measure will impact the lives of families who are now forced to live together most of the time in a limited space. This will in turn have an influence on children's activities, relationships between children and parents and wellbeing in general. Indeed, living with each other for 24 hours a day without the possibility of meeting other people is a new experience for many and one that requires mental flexibility, increased adaptability and resilience.
In this context, the Ministry of National Education, Childhood and Youth and the Centre Psycho-Social et d'Accompagnement Scolaires (CePAS) are launching an awareness campaign on wellbeing during isolation and more specifically on simple habits to adopt on a daily basis. The campaign is aimed at the general public and more particularly families, parents, children and young people. It includes articles on different aspects of living in social isolation, such as organising the day, raising children, promoting mental health, preventing risks and violence and information on the functioning of the human mind in isolation.
The first @HOME publication concerns simple everyday habits and offers seven recommendations aimed at maintaining and monitoring one's state of wellbeing: get informed; plan your day; stay active; take care of yourself; control your environment; stay connected to your social network; and make sure to maintain morale.
Campaign publications are regularly updated and are available on the schouldoheem.lu website.