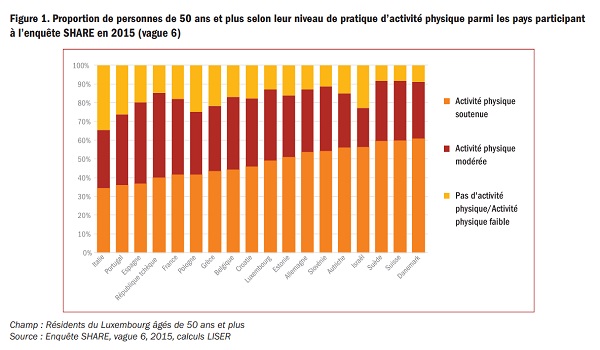 Credit: SHARE survey, LISER
Over half of Luxembourg residents aged 50 and over exercise regularly, according to a Luxembourg Institute of Socio-Economic Research (LISER) survey.
The SHARE survey conducted by LISER has shown that, in 2015, almost half of Luxembourg residents over that age of 50 practised physical activity at least once a week. Luxembourg thus ranked ahead of Mediterranean countries such as Spain (37%), Portugal (36%) and Italy (35), which also participated in the SHARE survey. However, it ranked behind Nordic countries such as Denmark (61%) and Sweden (59%).
The World Health Organisation (WHO) has named sedentarity, or lack of physical activity, the fourth highest risk factor for mortality worldwide. As such, the 2013-2020 WHO Global Plan of Action for Noncommunicable Diseases has included a 10% reduction in sedentary lifestyles by 2025 among its targets.
The SHARE survey identified three intensities of physical activity: sustained intensity physical activity, measured by practising, at least once a week, activities that require significant physical effort such as sports and heavy housework or work that requires physical effort; moderate-intensity physical activity that involves practising activities that require moderate physical exertion such as gardening, car cleaning or walking once a week; low intensity physical activity, defined as practising physical activity one to three times a month or practising no or almost no physical activity.
In Luxembourg, the study showed that residents over the age of 50 namely fell into one of the first two categories mentioned above. It did, however, show that the practice of physical activity differed by gender and decreased with age. For instance, more men than women were physically active at least once a week (54% versus 45% in Luxembourg) in 2015, whilst 64% of men aged 50-59 living in Luxembourg practised a sustained physical activity compared to 38% of those aged 70 and over. In women, this decrease was even greater.