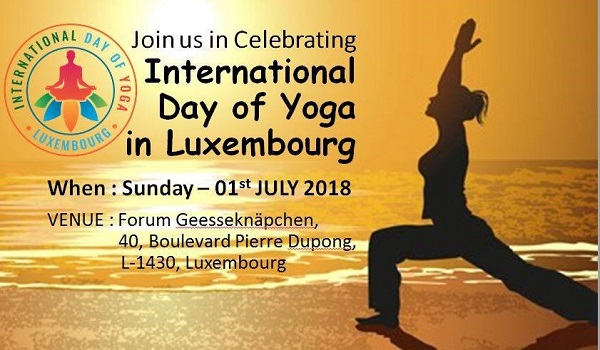 The Indian Association of Luxembourg (IAL) is holding an event on Sunday 1 July 2018 from 09:30 to 122:00 on the occasion of the 4th Annual International Day of Yoga in Luxembourg.
The event is being held at the Forum Geesseknäpchen in Luxembourg-Merl (40 Boulevard Pierre Dupong, L-1430 Luxembourg-Merl) under supervision and guidance from renowned Yoga Teachers in Luxembourg.
Yoga is an ancient physical, mental and spiritual practice that originated in India. The word 'yoga' derives from Sanskrit and means to join or to unite, symbolising the union of body and consciousness. It is a holistic approach that is valuable to our health and our well-being. Yoga is not just about exercise; it is a way to discover the sense of oneness with yourself, the world and nature.
The detailed agenda and more information will be published on the Indian Association Luxembourg's Facebook Yoga Day Event at https://www.facebook.com/events/183775609122576