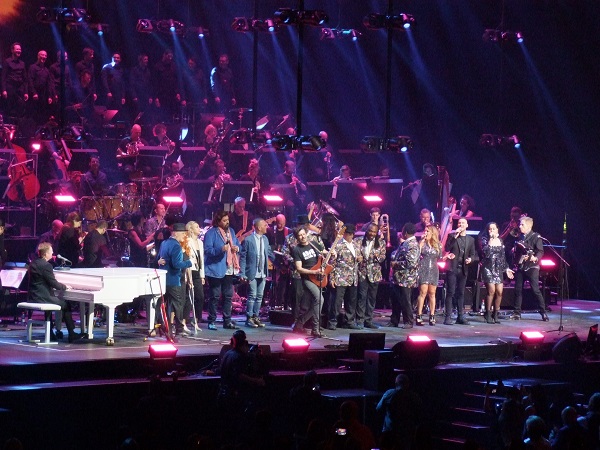 Night of the Proms 2019; Credit: Chronicle.lu
The Centre National Sportif et Culturel d'Coque in Kirchberg, organisers of the annual Night of the Proms extravaganza at the Coque, has announced that this year's event has been postponed until November next year as a direct result of the COVID-19 pandemic.
In a statement, the organisers explained that the health and well-being of the audience (members of thre public) and their staff is a top priority for them.
This year's Night of the Proms edition was originally scheduled to take place in November at the Coque, will not now take place as it is unclear what conditions and regulations will then have to be met and if they can still be implemented within a short time frame before the start of the tour.
Distancing regulations are very difficult to enforce, even in the often very narrow areas behind the stage. More than 200 people from the choir, orchestra, team and artists are involved and gather together in that space, not to mention the distance required on stage. The already very large stage should then be enlarged by more than double its initial surface to meet distancing requirements.
It was therefore decided to postpone this year's event to 2021. This decision was taken in accordance with the measures defined by the Luxembourg Government which aim to limit the spread of the virus. The new date of the event is now scheduled for 25 November 2021 at the Coque in Luxembourg-Kirchberg.
It is understood that all the artists who had signed up for 2020 will perform next year instead.
Tickets already purchased for 2020 will remain valid for 2021, so those who have already purchased tickets do not have to do anything.
For those who would like to obtain a refund instead, requests for refunds can be made until 10 November 2020 (after this period, tickets remain valid for 2021). Tickets can be refunded directly at the reception of the Coque or by mail (with your bank details) to the following address: Centre National Sportif et Culturel d'Coque, 2 rue Léon Hengen, L-1745 Luxembourg.
Tickets for 2021 can be purchased from today, 11 August 2020.
For queries, email: events@coque.lu