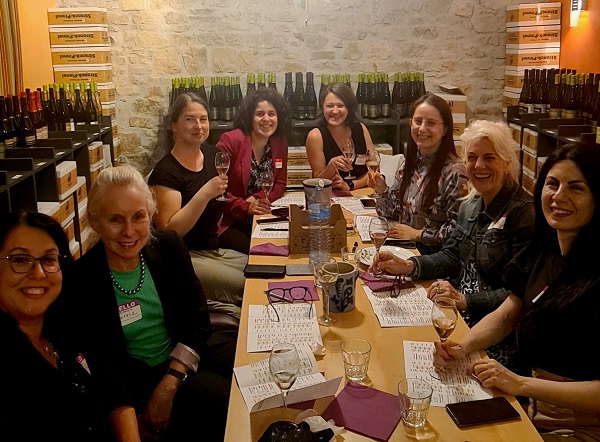 Credit: The NETWORK/Severina Losch
Luxembourg-based international professional women's association The NETWORK marked the return after the summer break with a wine tasting fundraiser at Stronck-Pinnel Domaine Viticole in Greiveldange on the evening of Wednesday 20 September 2023.
About 35 people (board members, members and non-members alike) took part in this sold-out event.
The bus picked attendees up from Glacis car park in Luxembourg-Limpertsberg on Wednesday evening and took them to the winery in the Moselle Valley.
Upon arrival, attendees received a glass of crémant, before The NETWORK President Mariana Florea delivered her welcome speech. She explained that this event would help raise funds for four local women's charities: Femmes en Détresse, Think Pink Lux, Dress for Success and La Voix des Survivant(E)s. Representatives of Think Pink Lux and Dress for Success, as well as fifth-generation winemakers, Jean-Pierre Stronck and Octavie Modert, were present on this occasion.
Octavie presented the winery to attendees, who later had the opportunity to try ten different wines (two crémants, six white wines, one rosé and one red wine). Each time, either Jean-Pierre or Octavie presented the wine before letting attendees taste it. There was music throughout the evening as well, with some people getting up to dance.
For this special event, Jean-Pierre Stronck and Octavie Modert pledged to donate 20% of the proceeds from purchased wine bottles to The NETWORK's chosen charities.
The NETWORK's next event, dedicated to diversity in the workplace, will take place on Wednesday 18 October 2023. Further details to follow.