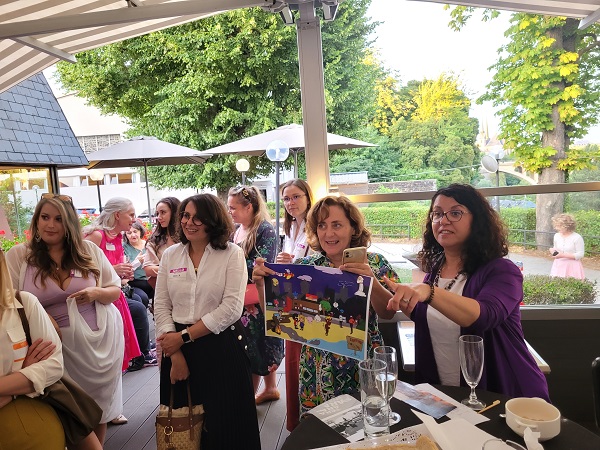 Lisa McLean, Managing Director at ARA City Radio, and Mariana Florea, President of The NETWORK, reveal the answers to a "speed networking" activity; Credit: Jazmin Campbell/Chronicle.lu
On the evening of Wednesday 12 July 2023, more than 50 members and non-members alike gathered for Luxembourg-based international professional women's association The NETWORK's annual Summer Drinks event at Le Bec Fin restaurant in Luxembourg-Hollerich.
The event, organised in collaboration with ARA City Radio, kicked off with pitches by Lisa McLean, Managing Director at ARA City Radio, and representatives of two organisations (Co Living and Think Pink Lux) involved in the community radio's "Come Together Project", which supports and showcases local non-profit organisations.
The event continued with "speed networking" activities (one related to iconic women and another linked to music) which served as engaging icebreakers for the attendees, who continued to chat - and take photographs together against the scenic backdrop of the Pétrusse Valley - over refreshments throughout the evening.
The Summer Drinks event was also an opportunity for members (and non-members) to socialise with one another before the summer break. The NETWORK will be back with its next event - a wine tasting fundraiser - on Wednesday 20 September 2023.