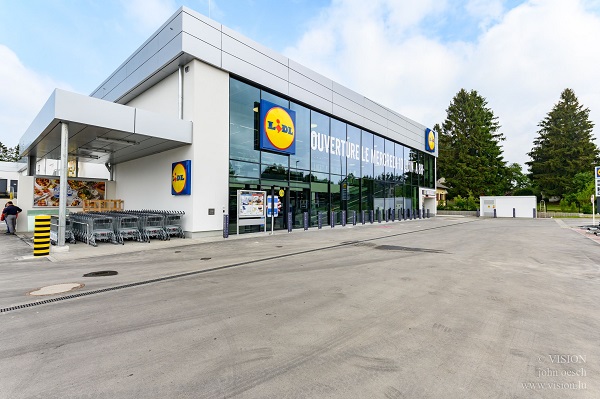 New Lidl supermarket in Huldange; Credit: Lidl
The Lidl supermarket chain has continued to expand in Luxembourg with the opening of its 11th store in Huldange, as well as the transformation of its Differdange supermarket and the application for a building permit for a new store in Dudelange.
These three projects, the investment of which is estimated at €37 million, will create some 60 new jobs in the Grand Duchy.
Huldange branch
The new store in Huldange, located across from the Knauf Shopping Centre, includes a sales area of ​​1,400m². Its layout aims to offer a pleasant shopping experience and circulation for its customers: a clear commercial presentation, easy identification of products, optimised circulation until checkout and 100 parking spaces. In addition to generating eighteen new jobs, the store integrates various sustainable technologies, including: free electric charging stations for cars and bikes; 130 photovoltaic panels; permanent monitoring of the store's energy consumption; high insulation of glass windows; heat recovery, including through cooling systems: water recovery via a retention basin.
The Huldange supermarket opened its doors today, Wednesday 10 June 2020 at 08:00.
In a telephone interview with Chronicle.lu, Julien Wathieu, Lidl Luxembourg spokesperson, compared the Huldange store concept to that of the branch that opened in Foetz in February 2019.
Reconstruction of Lidl Differdange
In Differdange, the brand has undertaken work to double the sales area of ​​its store. Located on Rue de Soleuvre, the supermarket was completely demolished and rebuilt. The sales space will be enlarged following an improvement in the configuration of the interior space and the acquisition of neighbouring land. Thus, the store size will increase from 650m² to 1486m². The new car park will have 133 spaces.
Work began in spring 2019 and the reopening is scheduled for next autumn. A temporary store will accommodate customers for the duration of the work. The supermarket will be equipped with 257 photovoltaic panels and electric charging stations for cars and bicycles which can be used free of charge by customers.
Construction plans for Dudelange
In mid-June, the brand will apply for a building permit for a store in Dudelange. Road and network works are underway and will be completed in summer. Located on Route de Luxembourg, this project will include a Lidl store of 1,249m² of sales area on the ground floor and a car park with 80 outdoor spaces plus 57 in the basement. On an area of ​​2,110m², professional spaces will be available upstairs: a part for internal use and another part for rental. The building will also give pride of place to sustainability with a view to minimising energy consumption.
The store opening is planned for 2022 and should see the recruitment of 25 new employees.
Expansion strategy
In addition to responding to a concern for proximity for the Luxembourg consumer, these projects are part of Lidl's expansion strategy of opening more spacious and brighter points of sale in order to be able to better enhance its assortment composed of 1,900 references. The fresh departments and the bakery space will be given a prominent role in these new stores.
Julien Wathieu, Lidl Luxembourg spokesperson, commented: "We present around 50 Luxembourg references in stores and our ambition is to increase the sale of local products by 10% each year".
Impact of COVID-19 crisis
During his telephone interview with Chronicle.lu, Julien Wathieu explained that March 2020 had seen significant increase in demand for products such as pasta and rice (up 40%) and frozen food (up 20%) in Lidl stores in Luxembourg, in the context of the COVID-19 pandemic.
Lidl currently employs 315 people in its Luxembourg supermarkets, although it has hired additional temporary staff in recent months to respond to this increased demand and to cover for other employees who presented symptoms of the virus.
Julien Wathieu concluded by highlighting the success of the Lidl Plus app loyalty card, which boasts 20,000 users in Luxembourg. Customers who use the app have been found to make 43% more purchases than those without the app, which offers a range of product discounts.