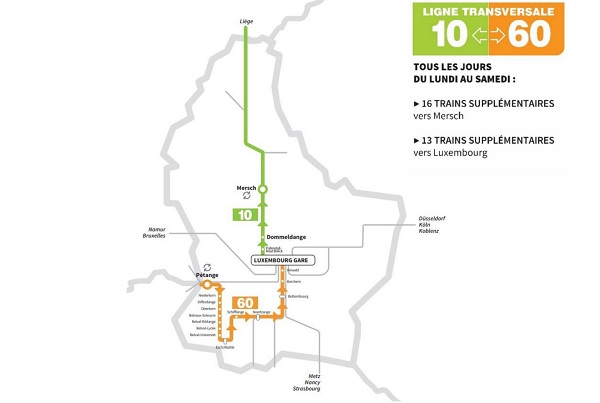 Credit: CFL
Luxembourg's national railway company, the CFL, has announced that it is increasing the frequency of trains to and from Mersch railway station.
From Monday 11 September 2023, the train service to and from Mersch will increase from four to five trains per hour. According to the CFL, this has been made possible thanks to the extension of the so-called transversal trains and the finalisation of the transformation and modernisation works at Mersch railway station.
From the start of the new school year, the CFL will extend the Pétange - Luxembourg - Dommeldange transversal trains to Mersch in both directions. Sixteen additional daily trains to Mersch (first departure from Pétange at 05:08) and thirteen additional daily trains to Luxembourg (first departure from Mersch at 06:35) will be put into service, operating Monday to Saturday.
This increase in frequency is in addition to the four trains per hour that already ran between Mersch and Luxembourg. On weekdays and Saturdays, this has thus been increased to five trains per hour. Precise timetables are available on the CFL website: https://www.cfl.lu/.
Moreover, a new CFL P+R has been open at Mersch railway station since June 2023. The CFL recalled that 405 additional covered and secure parking spaces are available on this site.