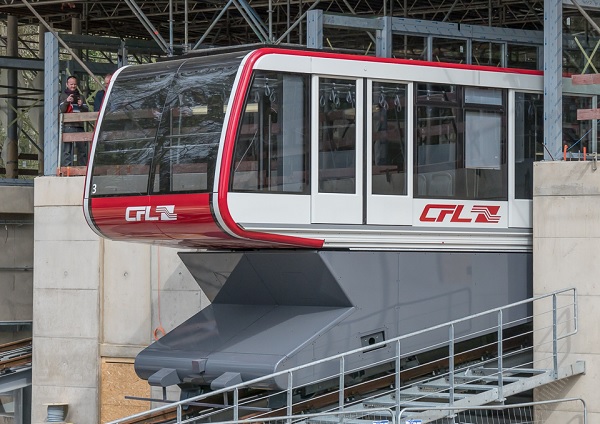 Credit: Ian Sanderson
Yesterday, Monday 10 December 2018, the funicular linking Pfaffenthal and Kirchberg celebrated its first birthday; the previous day it welcomed its 1.5 millionth passenger.
Unique in Luxembourg, the funicular route is one of the shortest in the world with a length of 200 metres and a difference in height of almost 40 metres between the Pfaffenthal railway station and the Kirchberg plateau.
The time of a single journey is about one minute, travelling a distance of 67.5 metres and a width of 21.1 meters. With a set of four cabins, spread over two independent systems, each funicular cabin is 11.8 metres long and 3.5 metres wide and each cabin weighs about 17 tons. Each is equipped with 16 folding seats, to accommodate a maximum of 168 passengers per cabin. The cabins have been designed to accommodate people with reduced mobility and passengers wishing to board a pram or a bicycle.
The exchange hub is located near the Pont Rouge; the new funicular allows travellers to move easily between the Pfaffenthal-Kirchberg railway stop at the bottom of the Red Bridge and the exchange hub platform located on the Kirchberg plateau. From there, passengers can continue their journey to the districts of Kirchberg, Limpertsberg or Luxembourg-ville For example, the new railway stop and the funicular allow, for example, a person from Ettelbruck who works in Kirchberg to save about 20 minutes on a trip. Opening hours of the funicular are adapted to those of train traffic.