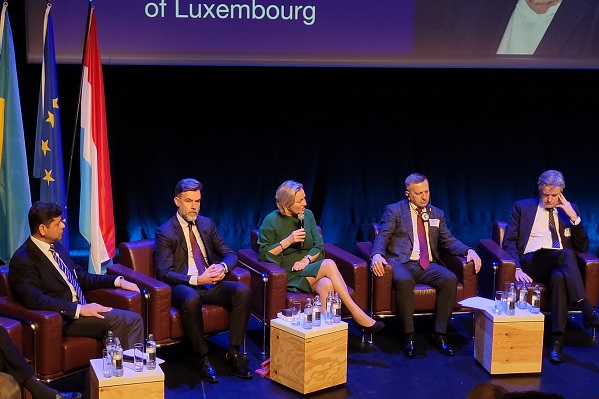 Credit: Jazmin Campbell/Chronicle.lu
The business forum on the "Rapid Recovery of Ukraine", organised by the Ukraine-Luxembourg Business Club (ULBC) together with its partners, continued on Tuesday morning with the plenary panel in Salle Robert Krieps at Neumünster Abbey in Luxembourg-Grund.
The business forum brought together more than 300 participants from Luxembourg and Ukraine, with about 50 participants having travelled over directly from Ukraine.
The plenary panel, moderated by Jean-Erik de Zagon, Head of EIB Representation to Ukraine, centred around the theme "The Current Picture: Economy, Support and Reconstruction". The panellists were: Paulette Lenert, Luxembourg's Deputy Prime Minister and Minister of Health; Franz Fayot, Luxembourg's Minister of the Economy; Oleksandra Azarkhina, Ukraine's Deputy Minister of Infrastructure; Olga Zykova, Ukraine's Deputy Minister of Finance; Yuriy Zarko, Mayor of Bilopillia; Serhiy Morhunov, Mayor of Vinnytsia; Gabriel Blanc, Support Group for Ukraine, European Neighbourhood Policy and Enlargement Negotiations (DG NEAR) at the European Commission; Markus Berndt, Deputy Director General of EIB Global; Vijay Goyal, CEO of ArcelorMittal CIS; Lisa Kaestner, IFC Regional Manager for Ukraine and Moldova.
Discussions highlighted the challenges that Ukraine faces, particularly in economic terms. Oleksandra Azarkhina stressed that working together with businesses was essential for Ukraine's reconstruction, and noted that Ukraine was working to make conditions favourable to businesses and investors. Olga Zykova elaborated on this, recalling that Ukraine was an attractive emerging market before Russia's invasion. However, the war "changed track of events and [Ukraine's] priorities and projections": GDP fell by 30.3% and inflation reached 26.6% in 2022. She noted that Ukraine has set up a dedicated war budget this year, although support from international partners is still needed.
On the Luxembourg side, Paulette Lenert acknowledged the importance of investing in people and their health. She stressed the importance of training programmes, particularly for young people, although she was confident that Ukraine, where digitalisation is a strength, would find innovative solutions. She added that this could be an opportunity for other European countries to speed up digitalisation - a sentiment that Economy Minister Franz Fayot shared, referencing the dual green and digital transition. Considering Ukraine's future in the context of the European Union (EU), he stressed that it should not be "a race" for the Ukrainian market among European companies but rather a concerted effort at European level. Minister Fayot added that Luxembourg had offered (and would continue to offer) concrete support to Ukraine in the form of financial, humanitarian and (in a first for Luxembourg) military assistance.
Gabriel Blanc reflected more closely on Ukraine's journey to becoming an EU member state, praising the country's "impressive" dedication to implementing EU reforms whilst fighting a war. He recalled that the EU will send €18 billion in macro-financial assistance to Ukraine this year. Mr Blanc stressed that in the long term, EU membership would offer "predictability and stability" for foreign investors, who are already familiar with EU rules and standards, with an interest in Ukraine. Markus Berndt added that it was important to support Ukraine's economic and social resilience and ensure that the country (and its potential investors) benefits from EU membership.
Speaking on behalf of ArcelorMittal, the largest steelmaker and largest foreign investor in Ukraine, Vijay Goyal stressed the importance of foreign investment and recalled that investors need to see post-war good governance, law and order and efficient infrastructure. Lisa Kaestner noted that the IFC had continued some of its financing throughout the war. Such support, however, was "just a drop in the bucket of what is needed," she said, reiterating the important role to be played by the private sector, in maintaining/creating jobs and providing goods and services to the population.
Last but not least, the Ukrainian mayors Yuriy Zarko (Bilopillia) and Serhiy Morhunov (Vinnytsia) presented the daily realities of their cities during the war. Mr Zarko noted that his city had developed a strategy of community development, and hoped that foreign investors would be able to support them further. Mr Morhunov stressed the importance of supporting businesses to help keep the economy afloat. He emphasised the need for international support, both in economic terms (investment leads to job creation) and in the form of military assistance, to win the war against Russia, "not only for Ukraine but for the whole democratic society".
The business forum continued with panels on the subjects of key economic sectors, attracting international investment and the role of the financial sector in Ukraine's recovery, as well as a round table later in the afternoon.
ULBC CEO and co-founder Evgenia Paliy commented: "It is important to have a base of investors to Ukraine as wide as possible, and to try to find ways to make investing safe for all types of funds. We think that Luxembourg is an ideal place to structure such capital flows because of its infrastructure, its expertise, and also the presence of such investors like ArcelorMittal, EIB, EIF and many others."
The business forum was followed in the evening by a fundraising gala, attended by hundreds of people at the Cercle Cité in Luxembourg-Ville. The goal was to raise funds for the Olena Zelenska Foundation.
For Chronicle.lu's article on the opening ceremony of the ULBC business forum, see: https://chronicle.lu/category/other-business-chambers/44174-government-business-representatives-discuss-rapid-recovery-of-ukraine.