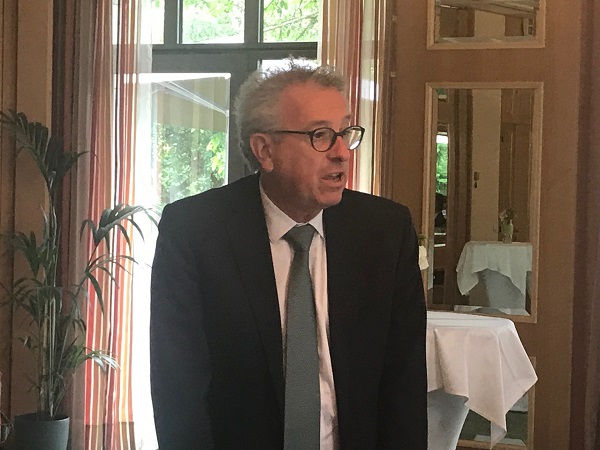 Luxembourg's Minister of Finance, Pierre Gramegna;
On Monday 17 June 2019, SweBeLux, the Swedish Chamber of Commerce in Belgium and Luxembourg, and NoBeLux, the Nordic Chamber of Commerce in Belgium and Luxembourg, held a Get-Together Lunch at the Hotel Parc Belair in Luxembourg-Merl with special guest Luxembourg's Minister of Finance, Pierre Gramegna.
Michel Miquel, NoBeLux President, introduced the guest speaker, Pierre Gramegna, Minister of Finance, by explaining that he holds one of the most challenging responsibilities in Luxembourg's government and referred back to the recent financial crisis during which Luxembourg lost 25% of its GDP, from which the country has recovered well. He stated that we are living in a world of technical transformation, including FinTech, which the Minister had to get used to, and then there is the issue of Sustainable Finance, a challenge which he stated that the minister has taken on "in full".
Minister Gramegna opened by thanking the 30 members of NoBeLux-SweBeLux in attendance by being in Luxembourg and by doing business here. He referred to recent meetings with various industry and insurance companies, who all reported that they were all happy in Luxembourg and nothing needed be changed, which he described as reassuring. He explained that he tries to be proactive and see the needs of businesses in Luxembourg, to establish regulatory and other requirements.
The Minister referred to a recent Eurogroup meeting that went on to 05:00 in the morning which was not picked up in mainstream news channels, in which the European Stability Mechanism (ESM) will have a broader responsibility to what it had when it was set up in 2012. Most of the loans given to Greece, Ireland, etc., were given through the ESM; in the future, the ESM will be used to prevent crisis (proactive) instead of just being a crisis mechanism (reactive). Banks across Europe are now contributing €55bn until 2024 to the Single Resolution Fund managed by the ESM. He acknowledged that Europe, while good at reaching decisions, can be bad at communicating, therefore explaining why few people had heard about this. "Europe is making progress".
On the EU parliamentary elections, the parties on the extremes did better than the traditional (centrist) parties, the ones that support the European ideal. He summarised that Europe is in "good shape" and a lot can be done with the new incoming European Parliament and European Commission.
With EU growth between 1% and 1.5% (Luxembourg will be around 3% - a good / sustainable growth). But he asked "How competitive are we?". He stated that we have had a real test in the last couple of years with Brexit. He promoted the concept of setting up subsidiaries in Luxembourg so that British firms can continue business with the EU. Around 60 companies (30 asset managers; 13 insurance companies; 8 banks including the Bank of Singapore, with Citibank and JP Morgan moving their European hubs to Luxembourg; and a couple of payment firms, including Alibaba) have publicly announced that they have set up, or are in the process of setting up, a presence in Luxembourg as a direct result of Brexit.
On the issue of sustainable finance and green finance, these are on a roadmap as being areas Luxembourg wants to develop further, partly via Public Private Partnerships, with fund managers becoming involved by devising new products. He explained that the government wants to focus on incentivising the market instead of directing it.
On the Luxembourg House for FinTech, here are 50+ start-ups already established there; as it is now at capacity, some of the more mature companies are expected to leave shortly so create space for some newcomers.
The Asian Infrastructure Investment Bank (AIIB), of which Luxembourg was the first non-Asian country to join, will have its 4th AGM in Luxembourg at the end of next month, with China's Minister for China and many others attending, thus allowing Luxembourg to showcase its financial centre.