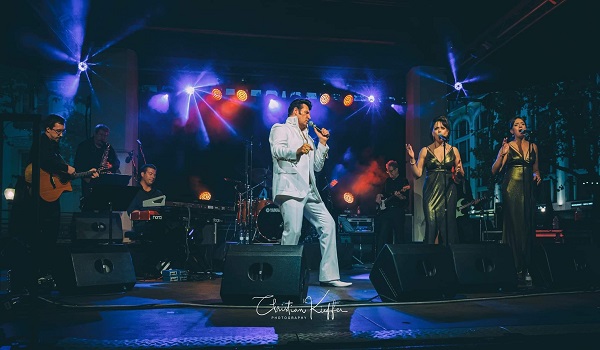 Steven Pitman as Elvis Presley; Credit: Christian Kieffer Photography
Tribute artist Steven Pitman will be celebrating his 20th stage anniversary in Luxembourg this year with a performance of "Elvis - from Vegas to Luxembourg" on Saturday 29 February 2020 at 20:00 at Philharmonie Luxembourg (Grand Auditorium).
31 July 1969 was a historic date in the career of Elvis Presley. The return of Elvis to the international hotel on the summer night of 1969 was one of the most significant events of his long career. The entire entertainment press reported massively about this event, since Elvis had not given concerts since 1961. The press, fans and Elvis Presley himself wondered if he could recreate the enthusiasm and euphoria he had created in the 1950s.
With this concert 'Elvis - from Vegas to Luxembourg", Steven Pitman, commemorates the excitement that was triggered when Elvis reinvented himself 50 years ago at the Las Vegas Hilton. Steven Pitman will be accompanied on this occasion by a nine- or twelve-member band including brass section and backing choir from Luxembourg.
Tickets cost between €20 and €35 or between €12 and €21 for under-27s. Kulturpass welcome. To book tickets online, see https://www.philharmonie.lu/en/programm/elvis-from-vegas-to-luxembourg/2581. For tickets and other information via tel., call 263-22632.