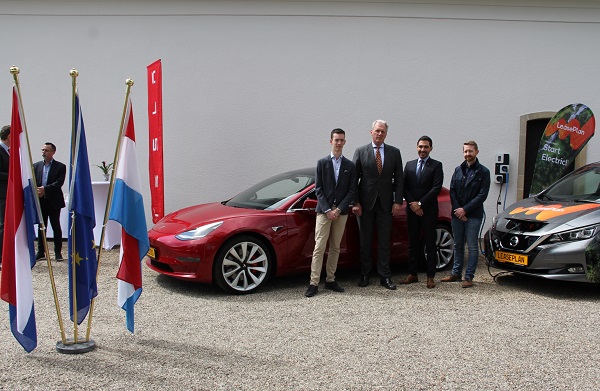 Credit: The Netherlands Embassy in Luxembourg
On Friday morning, the Netherlands Embassy in Luxembourg inaugurated its Chargy charging point at the Dutch Ambassador's residence in cooperation with LeasePlan Luxembourg.
In the last consecutive years, the Netherlands was in the top-3 countries in terms of newly sold electric cars. Today, Dutch companies increasingly export electric mobility knowledge, products and services abroad. Faced with this fast evolution of the world of mobility, LeasePlan has committed itself to taking a leadership role in the transition from internal combustion engines to alternative powertrains. In this regard, LeasePlan has set itself the goal of achieving net zero emissions from its total fleet by 2030. Indeed, in 2018, the company introduced its "full package" electric mobility product – now available in ten countries across Europe, including Luxembourg – to make the transition to electric vehicles hassle free.
During the event, Leaseplan presented the current developments in the electrification of leasing cars and the change in the way we use our cars in work and private life. Similarly, Tesla presented the new model3. After the speeches and networking event, all electric vehicles left again fully charged.
Ambassador Han Maurits Schaapveld welcomed the installation of the Chargy station at his home, making it one of the first residences in the world to do so. In his welcome speech, he stated: "It should also stimulate officials from the Netherlands to come to their meetings in Luxembourg by electric car, now they also can go fully charged back again". In addition, the residence is currently installing solar panels and rainwater tanks to make the historic residence in Weimershof even more sustainable.
Later this year, the Netherlands Embassy will also be organising an Orange Smart and E-Mobility Seminar to connect Luxembourg and Dutch companies in this industry. This event is scheduled for 3 July 2019.